Backstage at Emporio Armani, iconic hairstylist Oribe crafted sleek, modern updos to complement the youthfulness of the Spring/Summer 2011 collection. "The best part about this look is that it was easy to tailor to each model, based on personality, hair texture and length of hair. We customized the look, so some ponytails came from the back, and some pushed forward from the side," says Oribe. "This is a quick and simple style that will look fresh on anyone."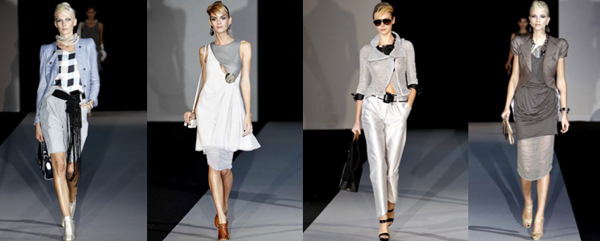 How To Get The Hairstyle:
1. Blow‐dry Oribe Soft Lacquer Heat‐Styling Spray into the hair to create a shiny, uniform and moldable texture. This will help straighten wavy hair, but use a flat‐iron after blow‐drying for any leftover curls.
2. Secure a ponytail at the crown of the head, keeping the style neat and clean.
3. Draw the ends of the ponytail forward to create a wave pattern toward the forehead, securing the hair with pins on top of the head.
4. Let the ends of the ponytail extend onto the forehead to create mock "bangs."
5. Mist Oribe Imperméable Anti‐Humidity Spray lightly over the hair for an easy hold.