I'm excited to share with you my interview with celebrity interior designer and television personality Kari Whitman. Whitman is one of Hollywood's most sought-after talents. Jessica Alba, Virginia Madsen, Kristen Bell, Emilio Estevez, Don Johnson are some of the clients that have flocked to Kari Whitman Interiors for her trademark eclectic style, and knowledge of eco- and pet-friendly design.
In this interview Kari Whitman talks to Marta Walsh about her passion for interior design. Her working relations with Jessica Alba. The latest trends in pet friendly design. What and who inspires her. Why she would love to design a space for Leonardo DiCaprio one day, and future plans.
Marta Walsh: Where do you call home?
Kari Whitman: Los Angeles for now, but anywhere my dogs are is where I call home!
MW: What were some of your first memories of falling in love and greatly interested with interior design?
KW: I've always had a passion and affinity for design.  As a little girl, I was constantly rearranging my room, and on vacations with my parents, I'd actually move all the furniture around in our hotel rooms!  I also excelled in art and drawing classes in school. I'm completely self-taught as a designer, but it's something I've been drawn to for as long as I can remember and something for which I seem to have a natural ability.
MW: How did your working relations with Jessica Alba come about? And where did you draw your inspiration when interior designing her house?
KW: Jessica wanted to surprise her parents by remodeling their kitchen and I suggested she do it on my show Designer to the Stars on WE. Jessica's a great communicator about what she wants and she and I really clicked, so she asked me to do some design work in her own home. And then when she moved into her new house, I got to completely redesign that space from top to bottom. The house was Spanish, but Jessica's style is more California bungalow, eclectic and funky. I drew inspiration from her desire to stay green—she has dogs and was expecting a baby at the time, so staying eco-friendly was a real priority. In addition to using sustainable woods, we used lots of antiques and repurposed furnishings. It was challenging but fun to think outside the box and find creative ways to be green.
MW: You also deigned Jessica Alba's non toxic and green nursery. What makes baby's room green?
KW: No VOC-paint is essential! In Jessica's nursery I used baby furniture made from sustainable wood. I also used organic rugs from Calvin Klein and organic linens from Sage Creek. And of course, green products like Mrs. Meyer's and 7th Generation are very important to help protect your baby from toxins!
MW: Another one of your fortes is pet friendly design. What are the latest trends and what's out?
KW: Eco-friendly products that are also pet-friendly are definitely in. My favorite pet-friendly product is Greener Pup (www.greenerpup.com), my line of eco-friendly dog beds. They're stylish, affordable and totally green. Covers are made from overstock designer fabrics, and bed fillers are made from 100% recycled plastic bottles. So every bed saves 70-120 plastic bottles from our landfills! Even better, 100% of profits benefits Ace of Hearts (www.aceofheartsdogs.com), my non-profit dog rescue. Your pets also spend a lot of the time on the floor—would you rather have them lying on polyurethane and chemically-treated flooring, or organic rugs and eco-friendly bamboo and palm wood floors? It's really important to consider your pet when choosing furnishing and floorings. And make sure you're using earth and pet-friendly cleaning products as well! I love Mrs. Meyer's. It's out to not let a dog in! Dogs are pack animals and need to be with their alpha leader—you! They're part of your home and installing a doggie door is a great way for them to stay close to you.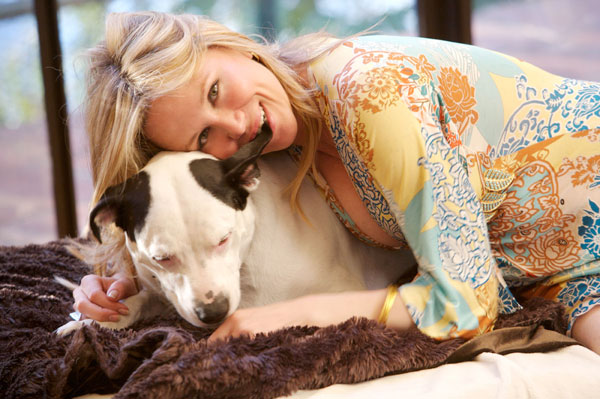 MW: How does one become 'Designer To The Stars' or a 'Celebrity Interior Designer" ? What advice can you give to anyone who wants to have your job?
KW: I never set out to be a "Designer to the Stars", but I was coming from an acting background and my first clients just happened to be celebrity friends. My reputation grew and I was fortunate enough to continue to get client referrals through word of mouth. Green design is a big trend right now, so I'd recommend getting on board. If you're an experienced designer, you can always reach out to celebrity's reps and introduce your work and green design tips. And when you're working with clients—any clients, not just celebrities—it's important to take your own ego out of the equation and make sure you're communicating with them about their specific taste and lifestyle needs. And always, always be ethical!
MW: Which other celebrities have you designed homes for and who would be your dream future client?
KW: I've designed homes for Jessica Alba, Virginia Madsen, Kristen Bell, Don Henley, Emilio Estevez, Don Johnson and Kurtwood Smith. I would absolutely love to design a space for Leonardo DiCaprio. I work with his non-profit Global Green and am so inspired by his passion and ethics. I think he's such a strong voice for this generation, so sweet—not to mention he's really hot! I have tremendous respect for him and I think he'd also embrace my tree-hugger side.
MW: What and who inspires you?
KW: I'm inspired by art and old architecture. I really admire architect Wallace Neff. But I'm most inspired by nature. In every home I design I strive to bring nature inside, or at least make it appear nature is close by. I'm also inspired by taking risks! Sometimes I think, Oh I couldn't possibly do that! But then I go for it, and once the design work gets underway, it's so exciting and rewarding.
MW: How would describe your own personal style and what's your philosophy about beauty?
KW: My personal design style is "eclectic expressionism". I'm also a tree-hugger from Colorado and a jeans and t-shirt kind of girl. As clichéd as it may sound, outer beauty can't make inner beauty. Beauty comes from loving yourself, being passionate and enjoying what you do.
MW: What was the first film you've ever watched on a date?
KW: My neighbor took me to see Grease. We were really young so my Mom had to come with us to chaperon!
MW: What is your favorite sound, restaurant, drink, travel destination?
KW: Light rain on a window or roof. The Kitchen in Boulder, Colorado. Sunshine Wheat Beer. My home in Boulder.
MW: What's in your makeup bag?
KW: I'm not a makeup girl—I keep things pretty minimal. But I always have Tarte cheek stain, Shiseido mascara and lots and lots of Dr. Pepper Lip Smacker!
MW: What one or two things some people may not know about Kari Whitman?
KW: I'm obsessed with hockey and watch it religiously. I also love to sleep in…really, really late.
MW: What's next for Kari Whitman?
KW: I've been working on a huge residence for a Prince for about a year and a half, so once I finish that, I'm taking a much-needed break. I'm spending the summer in Aspen and Boulder, then I'm gearing up for my next design project—a 20,000 square-foot house in Texas!
It was a pleasure to interview Kari! You can learn more about Kari Whitman Interiors HERE!