I had the pleasure meeting Milly's designer Michelle Smith at the Milly for Clinique Cosmetics Bag launch party at Bloomigdale's 59th street in New York City. I was also lucky to see a fashion show presenting the fabulous Milly designs. I was in love with the clothes. The Milly collection was cut for the elegant woman yet a woman that is adventurist, likes to be outdoors, and enjoys life. Very Jackie O. Very feminine and pretty. When photographing with Michelle we both looked at each other and said at the same time. Michelle to Marta: I love your T Shirt. Marta to Michelle: And I love your dress. Getting a compliment from a fashion designer feels amazing.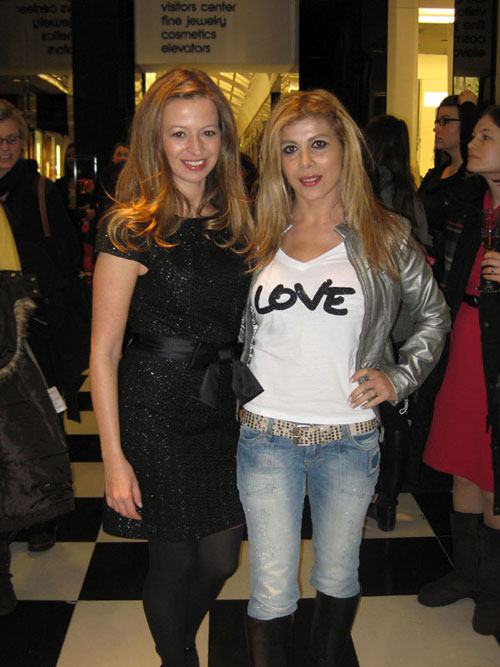 L to R: Milly designer Michelle Smith and Marta Walsh
The spring Milly for Clinique cosmetic bag is Michelle Smith's second Clinique creation and is sophisticated, glamorous and completely colourful. "Colour plays center stage in my collections," says Michelle. "The bright, fun print of the new Milly for Clinique bag makes me excited for spring."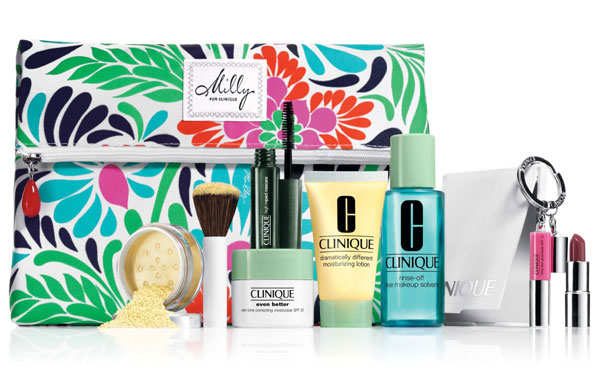 Milly for Clinique Cosmetics Bag
The spring Milly for Clinique makeup bag is a foldover clutch style that's easy to throw in a purse when on-the-go. Filled with Clinique's best of spring beauty items, this one-of-a-kind Milly design was free with any Clinique purchase of $25 or more; $75 value. It was available at Bloomingdale's counters nationwide and Bloomingdales.com from February 7 through February 21., 2010. However, Offer is still valid-in-store at Bloomingdale's North Michigan and Old Orchard May 12th through May 31st, 2010.
What's in the Milly for Clinique Limited Edition makeup bag? Clinique's best of spring beauty items. High Impact Mascara in black. Dramatically Different Moisturizing Lotion. Even Better Skin Tone Correcting Moisturizer SPF 20 (Marta's favorite). Redness Solutions Instant Relief Mineral Powder with a brush. Rinse-Off Eye Makeup Solvent. A mini lipstick and gloss keychain with Long Last Lipstick Mini in A Different Grape and Long Last Glosswear SPF 15 Mini in Clearly Pink and a Clinique Folder Over Mirror.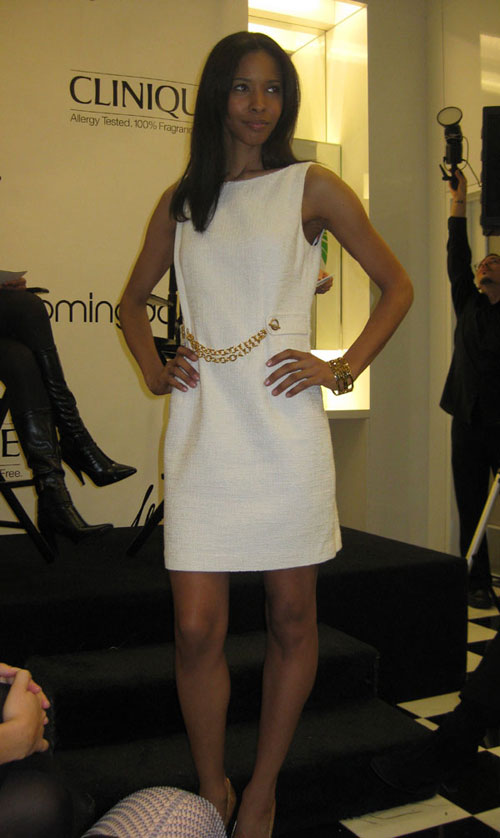 This dress was one of my favorites from the Milly by Michelle Smith collection
My Milly for Clinique Cosmetics Bag was signed by Milly's designer Michelle Smith. It reads "Stay Gorgeous …xo"  Thank you Michelle!