Gwyneth Paltrow's Hair. The 53rd Annual Grammy Awards took center stage with Gwyneth Paltrow's "Wild Bohemian" look created by celebrity hairstylist David Babaii.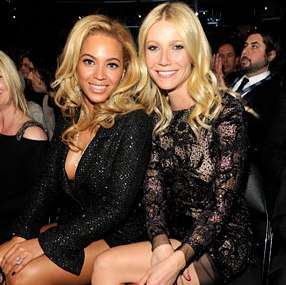 L to R: Beyonce and Gwyneth Paltrow
To achieve the look, David Babaii always starts with clean fresh hair. The clean canvas theory remains his mantra for every red carpet look. David began by applying Couture Colour Pequi Oil Treatment and gently massaging into the hair.
The Pequi Oil Treatment is used prior to blow drying to deliver silky and shiny hair. With the IT&LY HAIRFASHION Ionic Blow Dryer, David rough dried the hair for texture and volume. Next, he created a center part and began taking random sections wrapping only the center portion of some of the strands (leaving the top and ends free) around a 1″ curling iron. Alternating stands were wrapped around the curling iron, leaving only the very tips free. This was done to create uneven curl patterns. Once the strand cooled, David ran his fingers up the strand creating a "fanning effect". To finish, he added additional Couture Colur Pequi Oil Treatment to his hands and tousled the waves for added volume, texture and hold.