Summer is right around the corner and everyone is looking for the perfect bronzer to create a luscious brown tan. Hourglass Cosmetics is launching a brand new product for summer, Illume Crème-to-Powder Bronzer Duo in Sunset ($40), a bronzer and blush in our gorgeous, signature swivel compact. Paraben, fragrance, oil and wax free, Illume's formula creates a soft, velvet finish and stays fresh on skin all day without blotching or streaking. It also features vitamins A & E to provide moisturizing and antioxidant benefits.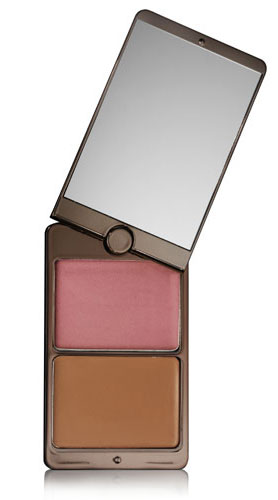 Additionally, Hourglass is adding a shade to Illusion Tinted Moisturizer ($55) –  their lightest yet, Shell.

Hourglass Cosmetics is also adding Fortune, a metallic pink gold shade to their ever popular Extreme Sheen Lip Gloss ($28).
All three will be available in May 2010 at Barneys New York, Sephora and Sephora.com.
ABOUT HOURGLASS
A line that truly embodies modern luxury, Hourglass Cosmetics combines timeless extravagance and style all in one elegant collection. From lush shades to incredibly luxurious packaging, makeup has never been so stunning – or perfecting. Created by beauty veteran Carisa Janes, each innovative product is formulated with the latest cosmetic technology and cutting-edge ingredients. Many contain anti-aging properties yet leave out harmful ingredients such as parabens, phthalates and sulfates. Offering a full collection of color cosmetics and brushes, Hourglass is celebrated for its "complexion perfecting" products such as Veil Fluid Makeup, Veil Mineral Primer, and Illusion Tinted Moisturizer. The brand is available at Sephora, Sephora.com and Barneys New York. For more information on the line, please visit www.hourglasscosmetics.com.