Paris Hilton was in Las Vegas for Britney Spears Concert in April. Celebrity makeup artist Rain Andreani created Paris' makeup look!
"The look I designed for Paris was inspired by her dress, which was a gold sequin dress. We wanted to go for a sexy modern Vegas style. So, we went with Sultry Smokey eyes and Paris' signature pink pout."- Rain Andreani.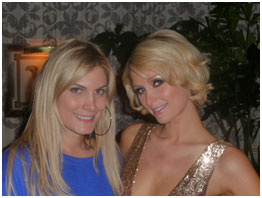 Here is How To Get Paris Hilton's Las Vegas Look:
• "I started with eyes first so that any eye shadow that falls around the eye can be easily cleaned up. For Paris' sexy smokey eyes I use Rain Cosmetics' Diva Eye Shadow Quad (pallet name: VooDoo).
This pallet has a pair of light base colors with rich dark colors. The key is blending the colors together by using little amounts of eye shadow at a time. I built up my desired looked & use a q-tip to blend together. When blending with a q-tip go in a circular motion over wear the two shades meet. This will give the look of smoke, hence why it's the famous "smokey eye." Next, I lined Paris' eyes with Rain Cosmetics' Expressive Eye Liner (shade Black). For smooth precise application of eye liner, warm up the pencil formula by rubbing the liner back and forth on your hand before apply to your eyes."
• Paris' flawless face: "I wanted to keep Paris' skin looking natural and sheer, so I combined Evian water with Rain Cosmetics' Perfect Cream Foundation and blended the foundation in circular motion with a wedge sponge. Next, I 'set' her foundation with Rain Cosmetics' Setting Loose Powder using a large powder puff. The key to Paris' matte and flawless look was to use a large powder brush and in quick circular motions I "buffed" her face and neck. This allows the fine particle of the loose powder to seal the foundation in place."
• For Paris perfect pouty lips: "I used Rain Cosmetics' Expressive Lip Pencil (shade: Sweet) and lined her top and bottom lip. Then I applied powder over the lip liner to give the lipstick some staying power. Rain Cosmetics' Glam Lipstick (Shade: Jet) to give her a soft pretty pink pout. To top of Paris' look I used Rain Cosmetics' Sexy Extreme Lip Gloss (shade: Krave) for the perfect sexy shine."
• "When going with warm eye shadow colors I like to go with cool lips and blush, this keeps the face balanced and natural."-Rain Andreani.
All products by Rain Cosmetics!