Jada Pinkett & Willow Smith Hair Diary by Celebrity Hairstylist Marcia Hamilton.
This summer Celebrity Hairstylist Marcia Hamilton traveled the world keeping the Smith Family Red Carpet ready for the Karate Kid Press Tour. Together, they traveled to 8 cities with premieres spanning over a few months. Marcia was responsible for creating various looks for both Jada Pinkett-Smith and her daughter Willow. This Mother-Daughter duo made fashion statements and fans buzzing about their looks. This includes Jada's new "Euro Bang" and Willow's controversial "Rock Star" Mohawk.
Westwood Premiere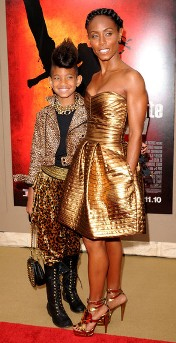 Inspiration: The inspiration behind the Los Angeles premiere came straight from the fashion runways displaying beautiful braids as the new accessory.
Jada Pinkett-Smith – I created a neat, large braid that laid across her head like a crown with a low chignon at the center back of the nape. This look was very simple to create. I blew the hair dry with an Ed Hardy Professional Blow Dryer using the infamous Vintage Collage Edition. I then sectioned the hair horizontally behind the ear and braided the front braid with a light wax like Purity Design's Pure Modelling Wax, securing the braid in place with a few bobby pins. The chignon was also braided then twirled down and held in place by a bobby pin.
Willow's leopard attire as well as her rock star persona created the inspiration behind her red carpet look. We decided the best way to compliment her fashion statement was to create a Mohawk in its natural texture that would be fierce and totally on the edge. To give it the delicate sweetheart flair, I pulled the hair off her face and pinned it back into a soft roll. For hold I used J Beverly Hills, Hold Me Spray and Purity Design's Pure Modelling Wax to maintain the spikes in the back.
London Premiere
Inspiration: My inspiration for Jada was, modern day- Betty Page goes Euro.
Jada Pinkett-Smith – I created the talk of tour when she created her "Euro Bang". I began by shaping a clean fringe directly above her eyes to create drama. This is always a great way to frame your clients face while drawing attention to their amazing features. The dress for the London premiere was a one shoulder covered with shimmery circular tiles, very mod and feminine. I kept the hair very simple and sleek in a low, side swept ponytail. I flat ironed the hair and fringe with the Ed Hardy Vintage Collage Professional Flat Iron and finished with Purity Design's Pure Water Drops. A smooth sleek fringe is critical to achieve the dramatic effect you are looking to achieve.
Willow – This look was total "Camden Town Girl". After blowing her hair straight, I flat ironed it with a bit of Purity Design's Pure Definition Hair Spray for hold and shine. For the textured look on the ends, I pinched the hair with a wax.
Berlin Premiere
Inspiration: In Berlin, I did a slight twist on this look from the London Premiere.
Jada and Willow – I blow dried their hair with a round brush for more body and volume at the root. Next, I used a flat iron on Willow to add a slight bump to the ends to softly frame her face. Since Jada wore a really fun golden mini dress for this premiere, I kept the hair really sleek from bangs to ends and swept off the shoulders.
Madrid Premiere
Inspiration: The above 90 degree temperatures and humidity are no hairstyles' best friend so I created these looks to withstand the heat for this premiere.
Jada Pinkett-Smith – My red carpet look for Jada was clean with a dash of spice. I styled her fringe very sleek and smooth with a little extra Purity Design's Pure Definition Hair Spray. Next, I pulled the pony tail high and tight then added toddle waves for some texture.
Willow – We opted for a cool off the face look by braiding three mini cornrows in the front of her head and securing them with hot pink pony tail holders, leaving the rest of her hair out and smooth.
At the event in Fredricstad, Norway, I also kept Jada's look sleek and smooth.
Paris Premiere
Inspiration: Paris the city of fashion was my true inspiration. The people of Paris are chic and sophisticated everyone looked.
Jada Pinkett-Smith – I created a "Retro Bouffant" to display the elegance and sophistication only Paris can provide. To begin, I left her fringe smooth but with a little body. To create height in the crown area, I teased it then smoothed the surface. Next, I gently brushed the hair back with a Mason Pearson Brush. All the hair remaining at the bottom was pinched, twisted and tucked then secured with bobby pins.
For Willow, I went a bit high fashion and sleeked her Mohawk back into a very Linda Evangelista look.
Tokyo Premiere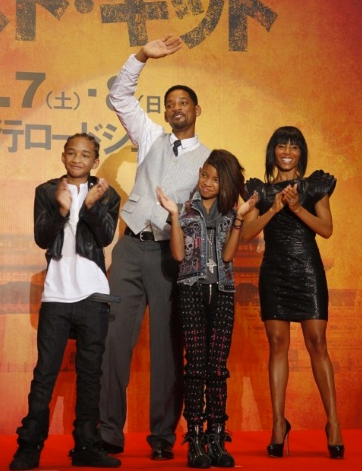 Inspiration: Finally for the Tokyo premiere, my inspiration was to go a bit "Wild". I was really inspired by the Harujuku kids and their use of color.
Jada Pinkett-Smith – For a dramatic contrast, I added dark brown and platinum blonde extensions, chopped it into a deep asymmetric bob. The contrast was amazing and the choppiness of the cut really accentuated the blonde.
Willow- This was my time to have some fun so Willow and I agreed to play with some temporary color. I used my flat iron and a little White Sands Infinity Hair Spray to flip her hair out, showing more layers. For color, I sprayed the ends of the hair with Temporary Highlight Spray Color in Neon Purple, it was just sheer fabulosity!
For each city, I kept Jaden fresh and clean in cornrows. I was inspired by his character in the movie and his face is so adorable it must be seen from every angle. When there was down time and on some press days, we kept the fro all the way untamed. I really had a blast creating gorgeous hair around the world. Can't wait to see what my next job has in store for me.