Jo Malone London appoints Charlotte Stockdale as Style Editor. London based, Charlotte is regarded as one of the most exciting personalities in international fashion. She is Fashion Director of i-D and as a stylist she has contributed to titles such as Vogue and Bazaar and has worked with the world's most talented designers including Karl Lagerfeld and photographers such as Mario Testino.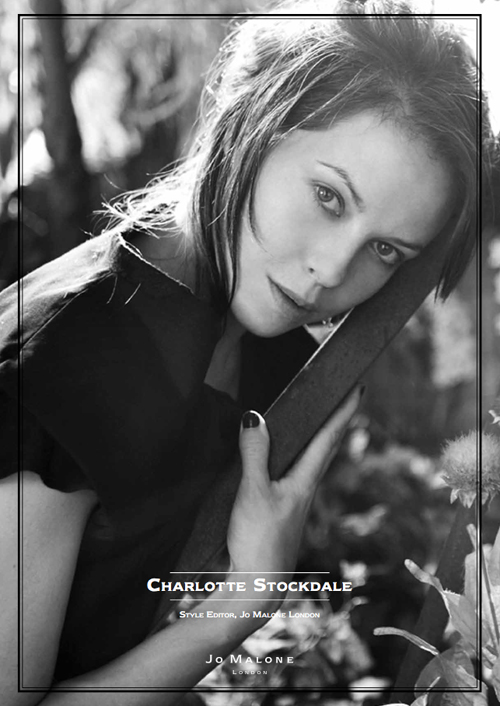 Charlotte Stockdale
13th January 2012 london. The renowned stylist and fashion expert, Charlotte Stockdale, has joined Jo Malone London as Style Editor. Working closely with the Jo Malone London team and Senior Vice President, Creative Director James Gager, she will bring her original sense of style and unparalleled creativity to the quintessentially British brand.
"Charlotte Stockdale is one of the most talented and vivacious stylists in the world of fashion, bringing a distinctive personality to every project she is involved in," says Gager. "She is a natural fit for Jo Malone London, where a unique understanding of British sensibility is at the heart of everything we do."
As Style Editor Charlotte will cultivate the brand's image, contributing to campaigns and in-store experience; she will also act as a curator of collaborations with fresh British talent. Charlotte has a deep understanding of the brand's unique heritage which, combined with her own interest in modern British culture, will reinforce the distinctive visual narrative at the heart of Jo Malone London.
"I feel incredibly excited to be part of something so distinctive and elegant. For me, Jo Malone London is about unexpected ingredients and understated style. I am looking forward to using my experience to take this brand forward in the most dynamic and authentic way possible," she says.
Brand President Maureen Case comments, "This is an exciting time for Jo Malone London, with new collections that show our creative reinvigoration while remaining true to the spirit of the brand. We are thrilled to be embarking on this new partnership with Charlotte, who is such an inspiring and talented creative force."
Charlotte has long been heralded as one of the most exciting personalities in international fashion. Fashion Director at i-D magazine she has also contributed to titles including Vogue, Bazaar, Numero and worked with photographers such as Nick Knight and Mario Testino as well as consulting for Karl Lagerfeld.