Wonder what Marta uses on her skin? Well, recently I've discovered Lierac Paris Crème Mesolift Anti-Aging Radiance Cream and Lierac Paris Diopticrème Age-Defense Cream eye cream. The face cream is super hydrating yet doesn't feel heavy or greasy. It smells really fresh, a bit citrusy. And the Lierac eye cream penetrates into my skin quickly and it doesn't leave white creamy residue under my eyes. Know what I'm talking about here? It's when my eye cream doesn't absorb into my skin fast it just sits over my skin, so when I sometimes forget to look I have funny white cream under my eyes. And, the good news Lierac Paris skincare products are available in CVS!!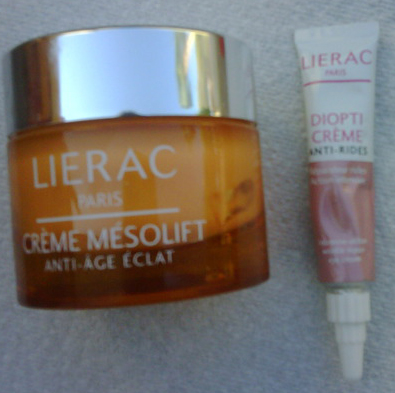 Company description: Lierac Paris Crème Mesolift Anti-Aging Radiance Cream was inspired By Facial Mesotherapy, a technique developed in 1952 by French Doctor Michel Pistor involves injecting nutrients directly into the skin activating collagen production and lymphatic drainage. Backed by validated scientific research that confirms the impact of nutritional elements on skin metabolism, mesotherapy can deliver an undeniable benefit in facial rejuvenation through a technique called Mesolift. The laboratories at Lierac Paris have taken this technique and adapted it to a highly penetrating topical daily moisturizer called Crème Mésolift that's non-invasive and with effective results.
Dr. Shirley Madhere, author of Aesthetic Mesotherapy shares,"A beneficial way to lock in the results achieved after a Mesoglow or Mesolift procedure is to apply a complementary product such as Lierac's Mesolift serum for added moisture retention."
Anti-aging innovation with a cocktail of nourishing and energizing active ingredients:
• 5% Mesolift concentration for effective anti-aging and radiance-boosting properties: vitamins A, C, E, B5 and B6; minerals iron, calcium, magnesium, copper, zinc, manganese; hyaluronic acid
• AHAs (citrus, glycolic, tartaric, lactic, malic) and Soft Focus Pigments for radiance
• 0.5% Apricot Butter and 0.5% lime wax for hydration and comfort
Diopticrème Age-Defense Cream For Wrinkles according to Lierac's website: This anti-wrinkle eye cream utilizes the synergistic action of botanical extracts to promote cell renewal, increasing overall skin firmness and elasticity. Diopticrème smoothes fine lines and wrinkles, enhancing the overall beauty and radiance of the eye area. Contains no parabens, no phenoxyethanol, no artifical coloring and no added fragrance.
Creme Mesolift will be available Ocotber 2009 ($54) at select Healthy Skincare Centers at CVS/pharmacy, Duane Reade, and Longs. www.beauty.com , www.cvs.com  , www.lierac-usa.com  , 1-877-5-LIERAC.
About Lierac Paris
Lierac Paris is manufactured and distributed by Alès Group, USA, a subsidiary of Alès Groupe, headquartered in Bezons, France. Founded by Dr. Cariel, a French physician specializing in corrective cosmetic medicine, Lierac Laboratories have been pioneers in skin repair and correction-oriented phyto-cosmetics since 1975. All Lierac Paris products are formulated to deliver effectiveness, safety and pleasure of use. Incorporating leading-edge technologies, Lierac Paris products derive their effectiveness from the field of phyto-therapy, using the most active resources of plants combined with the latest innovations in biotechnology. For more information or to find a local retailer, visit www.lierac-usa.com