Hey! I just wanted to let you all know I will be blogging from my Blackberry live from fashion week. You will have to excuse the bullet points writing and blurry pictures but this is the action as it is happening. I'll have high res pictures and videos when I get back 🙂
My first show was Twinkle.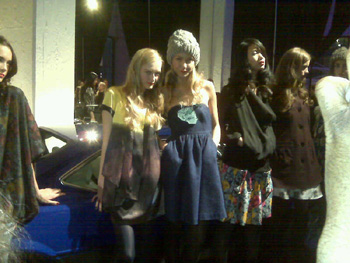 Mac makeup inspiration: Is 1950's, a girl going out on a date for the first time. Sexy kitten eyes not like her mother, which are bolder cat eyes. Lips are red orange, which is lighter, softer, fresher with MAC Lipstick in Lady Danger (vivid coral-red). Complexion is flawless, using just a concealer.
Key stylist at Twinkle was John Ruidant for Redken. The hairstyle for the Twinkle show was inspired by 1950s Drive-In. John Ruidant's favorite Redken haircare product for the show was Redken hot sets 22.