The new MAC+Mickey Contractor will be available January 6, 2011 through February 3, 2011. Marta Walsh is excited to present and interview with Nick Gavrelis and Nicole Masson MAC Vice Presidents of Global Product Development. Interview via MAC Cosmetics.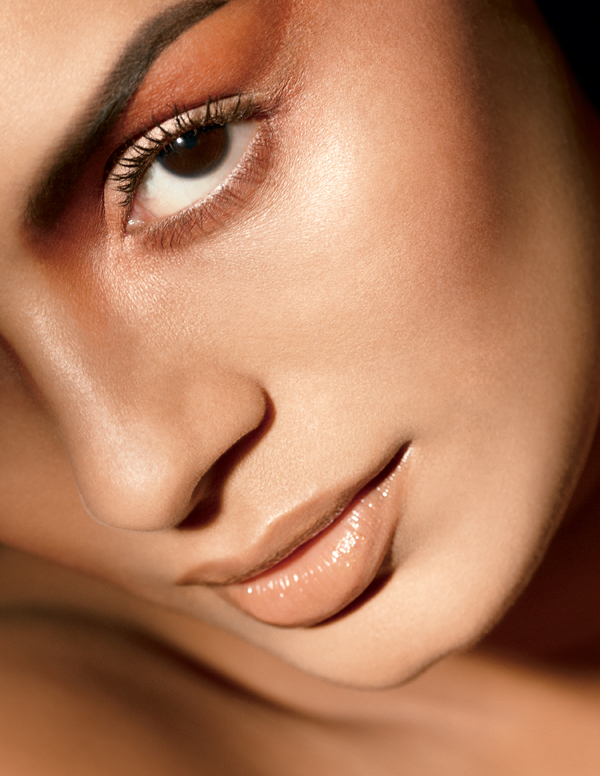 MAC+Mickey Contractor, The Look.
"I love the lipgloss on model's lips (above photo) it's called Flesh. No need to use a foundation anymore to get that perfect nude lips. I absolutely LOVE MAC makeup it's so innovative the pigments are long lasting and the price is right considering the quality of makeup you get. My dream is to collaborate with MAC Cosmetics with a makeup collection of my own, MAC+Marta Walsh perhaps? A girl can dream, why not:)" -Marta Walsh.
Firstly please can you tell me about your role at MAC and how you work on collaborations?
Nicole: Nick and I are counterparts within the two different areas of MAC. Nick is the Vice President of Global Product Development for face, skincare and Pro products, and I'm the Vice President of Global Product Development of all MAC 's colour products.
Do you collaborate directly with the makeup artist, or does the process have to go through multiple people?
Nick: The risk of it going through too many people is a dilution of integrity. It's critical for us to have one-on-one face time with our collaborators and this is something we did constantly with Mickey in order to review submissions, in both the Colour and Face categories. Then we could decide how urgent is it that we tweak a colour and discuss if it is working, or do we need to go back and involve the chemist for a reform or rework? It can be a long process and Mickey did this very patiently with us!
MAC constantly strives to stay ahead of the game in terms of keeping collaborations fresh. Why did you choose Mickey to be the first makeup artist for a tribute collection?
Nicole: The reason we chose Mickey to be the first makeup artist that we're collaborating with on a collection, is that we really have such respect for him as being the master of this market. Nick: He's touched so many women and men and makeup artists, not just throughout the Middle East but globally, too. He's inspired and mentored so many of our MAC Artists that we felt like we needed to pay credit to one of Bollywood's greats who is such a true and generous friend to our brand. He's family and his
talent and accomplishments need to be celebrated. And, most importantly, his philosophy and approach to skin, beauty and makeup application are such that they need to be shared with the world.
How was working with a makeup artist on a collection different than working with a fashion designer?
Nicole: We do work with makeup artists when we work with designers also, but this is the first time that a makeup artist has put his name to a MAC tribute collection. When you're working with a designer, they have overall conceptual ideas – they like the feel of something, they imagine how it makes them feel when they use the product and how it relates back to the artisan quality of their own clothing. However, Mickey is a makeup pro, he's using the product and he knows every detail of it, so it wasn't so much a challenge as a great opportunity to get the colours exactly right. We're talking undertones, overtones, level of pearl, level of coverage…not just to get the shade close to what he wanted but absolutely exactly what he wanted. How does it perform on all different skintones, does it perform exactly the way he wants it to and so on…
So it's much more collaborative in the sense that the precise shades and textures of makeup were determined with Mickey?
Nicole: Mickey speaks our language in terms of cosmetics. Designers say 'take this pink I imagined in my dream and make it!' Whereas Mickey would say 'I need this pink to do x, y and z. I need it to have a slightly rosier undertone on this type of skin tone, or a yellow tone', or 'I need it to be true and clean' or to 'flash' in a certain way. He was very precise, which made it easier to work with him. You can do the best work when you get the best instruction and Mickey was always 100% clear with us.
It's interesting that the collection is split into two parts, Face and Colour. Why is this?
Nick: The DNA of Mickey's work begins with skin. He works in very thin, very carefully applied layers to create a completely flawless skin that will stand up to the harsh environment and the hours that many of these Indian actors and actresses have to deal with. The trickle down benefit for real women is that the products in this collection perform incredibly. They look beautiful and are appropriate not just for Indian and Middle Eastern skin tones, but for anyone that may not have found the shade in the existing M·A·C line up that they want. These shades are special, and have application for absolutely anyone.
I understand that the new double-ended colour corrector is a product 'first' and an important and exciting development in this collection. How do they work?
Nick: Yes, the double-ended concealer is a new concept of colour corrector, containing both a pale yellow and burnt coral corrector. It's the fundamental product that Mickey uses on just about every woman he works with. He'll use it as a colour corrector before he conceals, or will mix it into concealer or foundation to tone and create an exact, beautiful, natural, vibrant colour. In some cases he'll even mix it over foundation or concealer. These correctors have a slightly deeper pigment load than our regular Select Moisture Cover Concealer formulation.
It will allow you to blend it into an existing concealer or foundation shade to tone it, so that it becomes even more perfectly suited for your skin or the lighting conditions that you're entering into. We believe that this double-ended concealer will be the star product of the Face portion of the collection. And yes, we are definitely exploring the notion of these double-ended correctors for all shades of skin!
There are also some new shades of Studio Moisture Cover Concealer in the collection – how are these special?
Nick: The four concealer shades, as well as the correctors, are designed to brighten and flatter the skin – as if you've had an extra night of sleep! They are specifically designed for those Mediterranean, Indian and Middle Eastern skins that tend to have a little bit of grey in them because it's golden and olive undertones can easily look ashy and dull. So, the warmth of these shades is designed to be extremely uplifting. For example, when you look at the existing global line up, there's a big shade gap between NC20 and NC30 concealers. Mickey has created the perfect shade that's a step above NC20 but has a beautiful golden, slightly peachy nuance that happens to take the grey out and brighten under the eye.
Did you feel that MAC needed more products to specifically cater to the Indian and Middle Eastern market?
Nick: We worked with Mickey a few years ago on our foundation and concealer extensions. Since then a new need has come out for more textures and shades – Select Moisturecover gives a thinner concealer feel that deals with the dehydration factor of very dry, arid climates or very drying, humid climates. Mickey was incredible at helping us with this because he is so knowledgeable about proper shade nuances and proper texture choices in foundation and concealer.
Did you have to create new formulas for this collection to fulfill how Mickey wanted the products to feel, look and perform?
Nick: As far as altering the formula of the Face products, we didn't. We're repromoting 3 shade extensions of Studio Fix fluid that were created specifically for this market. Then there's the Prep and Prime Transparent Finishing Powder, which is a staple for Mickey. He uses this product not only to set foundation as he works in these very thin layers to create a beautifully textured skin, but also to strategically control oil. We worked with 3 existing brushes – Mickey is so passionate about artistry tools and these are his selects from the existing portfolio. Nicole: Luckily for us, Mickey was already extremely satisfied with the texture and performance of M·A·C 's colour products and he specifically requested certain textures that we already had to be part of this collection. So, for the lipsticks he wanted a fuller coverage, such as the matte Amplified Lipsticks, and for the Lipglass he wanted a creamy fuller coverage rather than a sheer or sparkly formulation. So again, in terms of textures we were able to work within our existing formulas.
So, have you had shades like these in the Colour collection offered before at MAC?
Nicole: We have had shades like these appear before within our colour collection, but never before have we put it together into one complete collection that people with these skin tones can use every single product. We wanted to focus on exclusive shades that were hand selected by Mickey. That's why we haven't included basics, like brow pencils and mascaras, since they're available in the existing line up.
What do you love most about the collection?
Nicole: What I love about the collection is that half of the colour products are very neutral – the lipsticks, the Lipglass, the Blushcreme, the eye quad, are all neutrals. But they're slightly darker than what you might consider 'neutral' shades in a Western makeup kit. It's a base look that any woman of colour could wear. It's for everyone from a sun-kissed complexion to the darkest skin tone, no matter where they're from or what their undertones are. Then you have the single shadows, all of which are deep, intense, vibrant, jewel-tone shades that are meant to be layered on. The purple and the red are more contrasting, while the saffron and the forest green blend beautifully into the skin. I also love that you could do anything you want with this collection, whether it is a nude eye with a bold lip or a smoky eye with a subtle lip! There are so many options.