Valentines Day is right around the corner… Fortunately, mark has got you covered! With these mark sweet treats, you will be looking flirty and smooch ready!
btw-I met with Lauren Conrad's personal makeup artist Amy Nadine, who is also the lead makeup artist for mark Cosmetics, minutes before the debut of the Lauren Conrad Spring 2009 collection at LA Fashion Week. You can read all about mark backstage at LA Fashion Week & watch my interview with mark's makeup artist  Amy Nadine HERE!
mark Candy Kisses Lip Glosses ($10 set) – This set includes three delectable and creamy lip glosses in a portable "candy-like" clear pot. Each gloss is deliciously scented like your favorite desserts!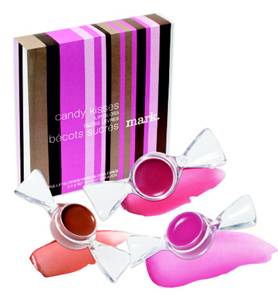 mark Kissinks Lip Tintmarker ($7) – Need some kissproof color, quick? Now your lips can really make a lasting mark! These Lip Tintmarkers are all you need for a semi-permanent, yet see-through lip stain that lasts for hours. It's so long-lasting, you'll find that you won't need to reapply for the rest of the day!
mark Sweetheart Deal Kits ($20) – These two different collections contain four coordinating shades that add up to a flirty look for Valentine's Day – or any day!
mark Have a Heart Necklace ($22) – The gift that keeps on giving! mark collaborated with Lauren Conrad to design this necklace of which100% of the net profits are donated to the girls' m.powerment campaign, committed to preventing the cycle of dating abuse and partner violence. The perfect addition to your Valentines look!