Few months ago I had an amazing opportunity to interview the very famous Olympic Gold Medalist: Nadia Comaneci. I don't want to sound too star struck, but Nadia Comaneci was a big deal back where I grew up, Israel that is. And I used to even mimic her Olympics moves with my friends, it was our inside joke.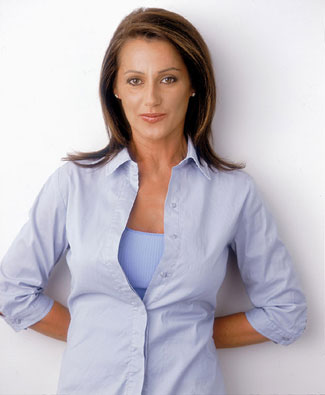 Well, here it is, my interview with Nadia Comaneci which was published in Beauty Interviews August 2008 edition:
Nadia Comaneci is a winner of five Olympic gold medals, and the first gymnast to be awarded a perfect score of 10 in an Olympic gymnastic event. She is also one of the best-known gymnasts in the world. In this interview Nadia Comaneci talks to Marta Walsh about some of the most memorable moments in her career, how did she first got interested in Botox Cosmetic, what compelled her to team up with Mark Spitz to launch the Your Personal Best Campaign, what are some of the pressures that come with being a champion, and what inspires her the most.
Marta Walsh: As world famous gymnast you don't need much introduction. What have been some of your most memorable moments of your career?
Nadia Comaneci: When I got my first 10. The score board showed 10.00 for the first time and everyone was so shocked, including myself.
MW: How did you first get interested in Botox Cosmetic?
NC: My good friend Anastasia Soare, who is an eyebrow guru, first let me know that I could do something to relax the muscles in between my eyebrows that caused the 11, that were making me look stressed and tired. I then talked to my doctor who recommended BOTOX Cosmetic. She answered all my questions and made me feel very comfortable about my decision to try BOTOX Cosmetic. I've been using it ever since! What do you like most about Botox Cosmetic?
About five years ago, I realized that while I exercised and ate right most of my life, there was nothing I could do on my own that would get rid of those two stubborn frown lines stamped on my forehead. They looked like an '11′ and made me upset with the way I looked, and that's when I decided to talk to my physician about BOTOX Cosmetic treatment. I like the treatment because its safe and simple solution to improving my appearance.
MW: How do you feel Botox Cosmetics changed the appearance of your skin?
NC: I still look like me, I still have lots of expression in my face, I am just without that 11 between my eyebrows.
MW: What advice can you give to women who are considering Botox for the first time?
NC: Women and men should feel empowered to do whatever it takes to feel their best and if that means aesthetic treatments like BOTOX Cosmetic, then that's their choice. I would advise women to talk to their doctor about BOTOX Cosmetic. If you are looking for a doctor, one great resource for finding one is www.YPBevents.com
MW: What compelled you to team-up with Mark Spitz to launch the Your Personal Best Campaign?
NC: Mark and I are old friends. He's always been motivated to work towards his personal best in all aspects of his life. It was natural for the both of us to want to help motivate others to do the same.
MW: Why is it easy for you to be honest about incorporating Botox into your skincare regimen?
NC: At the age of 46, I feel healthier and more confident than ever. As a young athlete I learned that you can't sit back and wait for things to happen – you have to make them happen. To me that also means making the effort to look as good on the outside as I feel inside and I'm very proud of that fact.
MW: How have some of the disciplines you learned as an Olympic champion translated into your day to day life?
NC: Though I'm not competing anymore, I still have the same drive to achieve my personal "10". That's reflected in my attitude towards my work, my family and how I care for my body. To help me keep up mentally and physically, I eat right, exercise and take care of my appearance.
MW: What advice can you give us on staying in peak shape both physically and mentally and achieve our personal best?
NC: Take time for yourself and give yourself permission to focus on the things that help you feel your best in all aspects of life. For some of us, that may mean different things like seeing a doctor about aesthetic treatments, like BOTOX® Cosmetic, if you begin to feel like your best isn't showing through.
MW: What was your toughest competition of your gymnastic career?
NC: All competitions were very difficult. Whether they were small or the Olympics, I always had to give my best. If I had to narrow it down to one, I would say the 1980 Olympics. It was difficult competing in Russia against gymnasts who were considered the best.
MW: What are some of the pressures that come with being a champion?
NC: When you're competing young, like I did, you don't think of the pressure. I just did the best I could and gave 100 percent every time. However, there was quite a lot of pressure in defending my title the second time around.
MW: Who and what do you find inspiring in life?
NC: My family.
It was a pleasure to interview Nadia you can find out more about Botox Cosmetic at the official website: www.botoxcosmetic.com
Nadia Comaneci was interviewed by Marta Walsh for BeautyInterviews.com