Loving the NEW Pureology Perfect 4 Platinum Strengthening System for High Lifted and Highlighted Hair. Much needed for my super blond highlighted hair. Main magic ingredient is keravis "nature's most powerful anti-breakage hair fortifier" according to Pureology. It's a "vegetable protein that replenishes and plumps keratin gaps to strengthen the hair." Targeted to combat dry hair, increase shine and manageability for blonds with 4+ level of lift.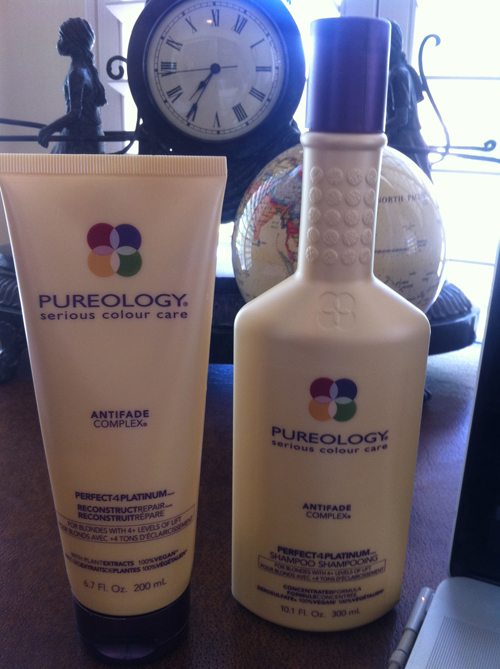 L to R: Pureology Perfect4Platinum ReconstructRepair and Pureology Perfect4Platinum shampoo
Expert hair tip:
" To achieve best results, begin with Perfect4Platinum shampoo and Conditioner," explains Natasha Sunshine, Pureology Colour Ambassador and owner of Byu-ti Hair Therapy, Pureology's flagship salon. "Apply MiracleFiller before blowdrying to fill in gaps in the hair's cuticle, which will leave highlighted hair stronger after each use. I recommend clients use the Perfect4Platinum ReconstructRepair as a weekly treatment and rebuild hair."
Pureology Perfect4Platinum is available July 2011 in salons nationwide.