The bridal season is right around the corner and Redken has the latest hairstyle trends for you straight off the runway. Check out how Redken Session Stylist and Tearsheet Artistic Director Giovanni Giuntoli reinvented classic bridal styles for stunning new spring looks.

Loose, Flirty Updo seen at Christos
Up, Up and Away. Timeless Romantic Updos Get Flirty Updates on the Spring/Summer 2011 Bridal Runways. The Spring/Summer 2011 Bridal Fashion Week hairstyles featured romantic, flirty updos that made for three beautiful, ultra-flattering looks.
Redken Session Stylist and Tearsheet Artistic Director Giovanni Giuntoli, kept true to the visions of the designers at Christos, Kenneth Poole, and Amsale, emphasizing each line's distinct clientele. This individuality could be seen in youthful luxury, empowered sophistication, and classy clean updos. Use these styles as inspiration for your own big day!
Loose, Flirty Updo – seen at Christos
"The Christos woman is classy with a flirty, playful side," Giuntoli said. "It's a classic shape that she could have done herself, but with more of a luxurious feel."
To achieve the look, blow-dry hair with Redken aerate 08 bodifying cream-mousse to add volume, and then mist with spray starch 15 versatile ironing spray and flat iron the ends. "It's more about the bend in the hair than the curl," Giuntoli explained. Depending on your hair type, mist the crown with wool shake 08 gel-slush texturizer, then gather at the top and twist it into a knot. Finish with fashion work 12 versatile working spray for hold. For this style, it's more important to gather the hair loosely into the shape than to brush and pull it tight to the head.
Avant-Garde Twist –seen at Kenneth Poole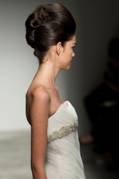 "This season balanced the hair with the big gowns at Kenneth Poole," says Giuntoli. "This style structure has been seen in the past, but it has even more height and drama this year. It elongates the neck, adds instant sophistication, and empowers the female form while nodding to classic avant-garde looks."
If you've chosen a statement gown, get this look by first finger blow-drying the hair with velvet gelatine 06 cushioning blow-dry gel. Then, backcomb the hair at the scalp for height before twisting it up and under into a French twist and securing with pins. Finish with forceful 23 super strength finishing spray. Don't forget to ask a bridesmaid to hold on to a mini size for touch-ups to ensure that your style stays in place all night long.
High Chignon – seen at Amsale
"The 2011 Amsale look was classically inspired yet freshly approached. The sleek chignon is from years past but this version presents a new view with the croissant shape placed higher atop the head," Giuntoli said.
For this look, start with a directional blow dry toward the high crown area, and then pulled hair into a ponytail at the crown. Next spray the ponytail with pure force 16 non-aerosol fixing spray throughout and then pin up around itself into the croissant shape. Finish the style with glass 01 smoothing serum to add extra gloss and glamour.
These beautiful, versatile new bridal updos can be a fantastic guide on your wedding day and with hair pulled away from your face, can give that extra pop of sophistication and glamour you need on the big day. Whether you want a playful, flirty look, a chic updo, or a classic, clean chignon, remember that your wedding 'do is all about you and it may take a few trials to find the right fit. Work with your Redken stylist to create a look that reflects your own personality and makes you feel your absolute best.
For more information on products log on to www.redken.com or call 1-800-REDKEN8. Please note, Redken products can only be guaranteed authentic when purchased from a salon.