Banana Republic reinvents the notion of physical and emotional chemistry with new fragrances for him and her. Inspired by the strong connection we have with ourselves, with others and with the world, the Republic Collection effortlessly captures individuality and equality in two new sophisticated scents: Republic of Women and Republic of Men.
Designed to complement each other, these extraordinary new scents celebrate the unique qualities that unite us all and the unspoken bond we share with humanity. Elegant with an edge and subtly provocative, Republic of Women and Republic of Men encourage modern souls to express their individual style while remaining open to new ideas, creativity, and most of all, to one another.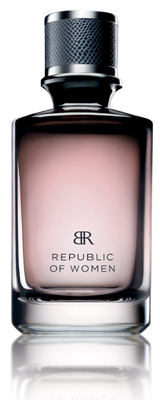 Republic Of Women: Playful yet romantic, innocent yet seductive, the Republic Woman epitomizes modern sensuality. Her sparkling energy and eagerness to seek out and explore new ventures constantly inspires those around her. She may thrive on social interaction, but always succeeds in keeping a small part of every moment all to herself.
Like the woman who wears it, Republic of Women leaves an alluring impression. The fragrant harmony of sweet osmanthus, juicy lychee and spicy bergamot embraces the senses first, followed by an interplay of peony, pink jasmine and Moroccan rose. A base of soft musks and precious woods punctuates the scent's undeniable power.
Republic Of Men: The Republic Man is a study in contrasts—and connections. His boundless ambition is tempered by a relaxed elegance. He freely borrows from the past to create his own modern authenticity. Being the center of attention comes easily, but he is oblivious to his charm. Dashing and outgoing, he still manages to maintain an air of mystery.
Like the man who wears it, Republic of Men is the embodiment of sophisticated masculinity. Sparkling clementine mingles with wet plum and dewy fig leaf. A modern, aromatic ensemble of sambac, rosemary, basil, sage and freshly crushed hazelnut comprises the scent's inviting heart, while the lasting signature of the fragrance lies in unique bottom notes of fresh sandalwood, cedarwood and creamy skin musks.
Clean architectural lines inspired the classic cylindrical silhouette of the Republic fragrance bottles. In sultry plum for her and smoky grey for him, each is topped with a warm textured-fabric and polished-silver cap engraved with the iconic BR logo. A modern keepsake box swathed in crisp linen houses the fragrances while a simple tug of a grosgrain ribbon opens a windowed door, inviting the wearer to explore each scent.
Republic of Women Eau de Parfum is $48 (1.7 fl. oz/50ml), Republic of Men Eau Toilette is $45 (1.7 fl. oz/50 ml); both will be available exclusively at Banana Republic stores nationwide beginning September 2009.