Shear Genius 3: Episode 10. "Who Will Prove To Be Shear Genius?" Nexxus Salon Hair Care is back as the official hair care sponsor for the third season of BRAVO's hit reality series, Shear Genius, a new style of competition. Nexxus Creative Director Kevin Mancuso offers tips on styling so that anyone can achieve a salon style at home.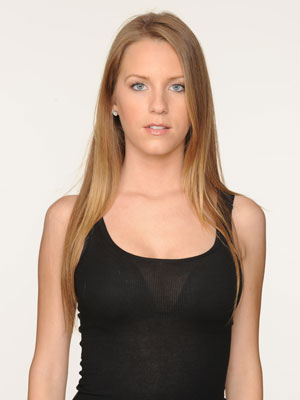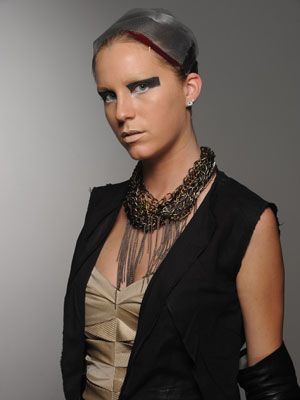 This week's "how to get the look" from Kevin:
Take inspiration from last night's Henry Duarte Fashion Show and keep hair simple and polished when "rocking" an edgy headband.
1. Apply a sleek styler, such as Nexxus Sleek Memory, to damp hair, and then blow-dry using a large round brush.
2. Once dry, pull hair back into a low ponytail and secure with an elastic.
3. Twist loose ends into a bun and secure with a bobbi pin.
4. To finish the look, add a bold and unique accessory.
Recap of Show
It all comes down to this! The final three stylists, Brig, Janine and Matthew, met up with Orlando and Camila to receive their final challenge: "Create six looks for a Henry Duarte Fashion Show." Each stylist consulted with Henry, who said he wanted futuristic hairstyles to complement his edgy fashions.
At the Shear Genius Nexxus Salon, the stylists picked their assistants from a grouping of their former competitors. Since Brig won the prior elimination challenge, she was able to choose her own two assistants and determine the order of who would choose after her.
Once the assistants were chosen, Janine immediately began wrapping her models' hair around large hairpins to set in major frizz. Brig decided on her most avant-garde look yet – what she called "laminated hair." The look consisted of multi-colored hairpieces stuck in between plastic and layered on top of the models' simple buns. Matthew also got to work quickly on his vision, "bondage hair," with zippers, tightly bound mohawks and even extreme foreheads courtesy of a few skullcaps.
After the runway show, the stylists met with their final four judges, Jonathan, Kim, Camila and Allure Editor-in-Chief Linda Wells. While all of the judges agreed that Brig's work was unique and edgy, Jonathan criticized the use of props and lack of hairstyling. As for Matthew's hairstyles, Linda called the zippers on his hair fun, but found his skullcap looks to be ugly and jarring. Kim called it hot, but was also bothered by the unsettling effect of the skullcap. Janine's looks also underwhelmed the judges. Jonathan praised her for great technical work but complained that it wasn't quite enough for this stage of the competition. Linda thought Janine's work was beautiful, but Camila commented that she'd seen the look on the runway before.
In what some may call a shocking upset, it was Brig who ultimately rose to become Shear Genius. Her visionary approach not only won her the title, but $100,000 furnished by Nexxus Salon Hair Care, an apprenticeship with Nexxus and the opportunity to style hair for an Allure magazine photo shoot. Congratulations, Brig!
For more from Kevin Mancuso and to learn about "Shear Genius Season 3," become a fan of Nexxus on Facebook