Eye Treatments: Skyn Iceland Hydro Cool Firming Eye Gels are just what the doctor ordered before my trip to New York City for Fashion Week. I needed something like this: fresh, cooling, and pampering! My dark under circles just got an upgrade. We're happy!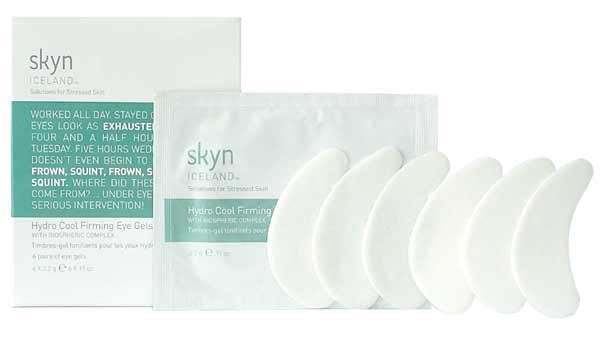 Skyn Iceland Solutions for Stressed Skin Hydro Cool Firming Eye Gels with Biospheric Complex: Cooling, transdermal patches that help firm, de-puff, and reduce premature wrinkling under eyes. Hydro Cool Firming Eye Gels infuse the eye area with concentrated doses of high powered ingredients; soothing, toning and de-puffing the skin under the eyes for immediate, visible results. When you're run down and stressed out, the delicate skin under your eyes really takes a beating, resulting in puffiness and premature wrinkling. Non-irritating and easy to apply and remove, these single-use disposable gels are a great pick-me-up for the sensitive skin under the eyes. Great for travel and easy to throw into a handbag or purse, the patch, a cutting-edge delivery system, works in just ten minutes.
How to use: Remove backing and apply gel side to under eye area for 10 minutes. After treatment, gently peel away patch and follow with an eye cream. Use once a week or anytime you need a quick fix!
Price: 6 pairs of eye gels $45 USD.
Available: Skyn Iceland products are available at Sephora, QVC UK, Saks.com, select Dillards stores, Henri Bendel. Victoria Secret Direct, beauty.com, Skinstore.com, Holt Renfrew in Canada and skynICELAND.com