Selling tanning or self tanning products to Marta is like selling ice to Eskimos. My skin is naturally olive and has that constant Mediterranean tan. So I'm not very motivated to self tan often. However, St. Tropez Wash Off Instant Glow Body lotion ($18) manged to changed my mind.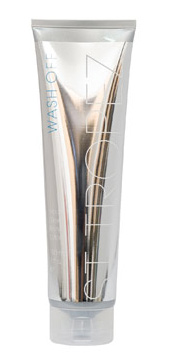 What I love about it is that I get an instant sun kissed look with no commitment. I can wash it off any time. It's not orange. It smells good. It's not too dark. It's just the right amount of sun glow. It's easy to apply, although make sure to wash your hands after use, or even wear gloves when applying. The lotion is dark brown when first dispensed, once you spread all of the skin it turns into a sheer tan color or into that very desires sun kissed look. Remember, the St. Tropes Wash Off Instant Glow is not a self tanner, it's a tinted body lotion.
The wash off St. Tropez line also include:
St. Tropez Wash Off Instant Glow Face, $15
St. Tropez Wash Off Instant Glow Mousse, $22.50
Visit sttropeztan.com for more details.