TM just got the word that Taylor Swift is launching her first fragrance. Taylor announced the name of her signature fragrance, Wonderstruck, in this morning's issue of Women's Wear Daily.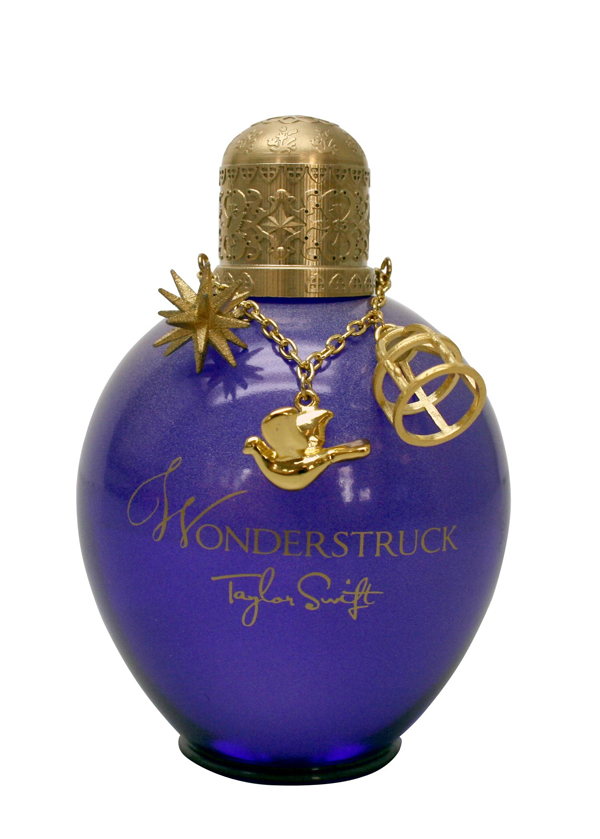 Taylor Swift announces new fragrance Wonderstruck.
"Wearing perfume is such a unique way to create memories. Like songs, a scent can take you back and allow you to relive a moment in time."-Taylor Swift
"I wrote the lyric, 'I'm wonderstruck, blushing all the way home,' for the song 'Enchanted' about the first time you meet someone. A fragrance can help shape someone's first impression and memory of you. It's exciting to think that Wonderstruck will play a role in creating some of those memories."
Quotes from Taylor in WWD: "I share personal life experiences through my music, and my fragrance will allow me to share these experiences with my fans in a completely different and new way. Falling in love is a moment every girl daydreams about and Wonderstruck represents that magical feeling of promise and hope and intrigue. It was fascinating to learn that you could layer so many different scents to create a beautiful end result."
The beginning of something magical…Wonderstruck by Taylor Swift. Taylor Swift and Elizabeth Arden introduce Wonderstruck, Taylor's debut fragrance available nationwide at prestige department stores in October 2011.
New York, N.Y. – Grammy Award winning singer/songwriter Taylor Swift has partnered with Elizabeth Arden to launch her first signature fragrance. Wonderstruck will debut in prestige department stores nationwide in October 2011.
THE INSPIRATION
With its eclectic and traditional aesthetic, Wonderstruck draws inspiration from Taylor's personal life experiences, making every element of the brand authentic.
The name Wonderstruck comes from the song "Enchanted" on Taylor's current album, Speak Now. Wonderstruck is that awe-inspiring feeling that comes from experiencing something magical, especially the rush of an instant connection with someone. Taylor hopes to capture this feeling in her fragrance.
THE FRAGRANCE
Created by Taylor with perfumer Olivier Gillotin of Givaudan, inspiration came from Taylor's favorite memories and scents. Wonderstruck is a gourmand floral; a charming and sparkling surprise of vibrant fruits, kissed by a bouquet of soft petals and a touch of sweet indulgence.
"Taylor has so many appealing qualities that have captivated fans, making her the superstar she is today. She had a vision for this fragrance and we could not be more thrilled to help her make it come to life. As the fragrance is revealed note by note, each spray delivers hints of her beauty, femininity, success and independence."- Olivier Gillotin of Givaudan
Alluring
The flawless beauty of freesia, apple blossom and raspberry spark a swirl of vibrancy and feminine allure.
Authentic
In the heart, a sweet surprise of blissful vanilla is embellished by airy, sun drenched honeysuckle and white hibiscus.
Engaging
Notes of golden amber and sandalwood are woven with a kiss of lush peach.
THE PACKAGING
A perfectly charmed deep purple bottle holds this enchanting fragrance. The iridescent rainbow finish, never before used in the fragrance industry, gives the bottle a magical glow. The antiqued gold charms that adorn the bottle were hand-picked by Taylor and are reminiscent of her unique style. The Moravian star, dove and birdcage charms are signature decorative elements that evoke Taylor's whimsical flair. The charms appear once again within the intricate detail of the embossed cap, capturing Taylor's love of hidden messages. The carton is a modern day patchwork, homage to the many fabrics Taylor has collected on her travels. The finishing touch to the package is a gold embossed 13, which fans will recognize as Taylor's lucky number.
THE COLLECTION
Eau de Parfum Spray, 3.4 fl. oz/100ml $59.50
Eau de Parfum Spray, 1.7 fl. oz/50ml $49.50
Rollerball, .33 fl. oz/10ml $18.00
Scented Body Lotion, 6.8 fl. oz/200ml $29.00
Scented Bath Gel, 6.8 fl. oz/200ml $25.00
All prices are manufacturer's suggested retail prices in US dollars.
Available in Department and Specialty stores in October 2011.
ABOUT TAYLOR SWIFT: Taylor Swift is a four-time GRAMMY winner, the reigning Entertainment Weekly and the Academy of Country Music Entertainer of the Year, and is Billboard's 2011 Top 200 Albums Artist. She is the top-selling digital artist in music history, has had singles top both the Country and Pop radio charts, and in 2010 sold more albums than any other artist in any genre of music. With 1,046,718 copies sold in the US in the first week of release, her Speak Now album scored SoundScan's biggest single-week sales total since 2005 and is the biggest debuting country studio album in history. With the release of Speak Now, Taylor made history on the Billboard Hot 100, charting a record-breaking 11 songs from one album in a single week. Taylor, who writes all of her own songs, has career record sales now in excess of 20 million albums and 33 million song downloads. Her Fearless album was 2009's top-selling CD, and she was the top-selling artist of 2008.
Last year, at the age of 20, she became the youngest artist in history to win the music industry's highest honor, the GRAMMY Award for Album of the Year. Also at the 2010 GRAMMYs, she took home the awards for Country Album of the Year, Best Country Song, and Best Country Female Vocal Performance. Her 6x-Platinum FEARLESS album is the most awarded album in Country music history.
In 2009, she was named Artist of the Year at the American Music Awards, and also became the youngest artist in the 43-year history of the Country Music Association to be awarded country music's top prize when she took home the CMA Award for Entertainer of the Year. Taylor currently holds the Billboard all-genre records for the longest charting album of this century, for most Top 20 debuts in a calendar year, and for the largest overall airplay audience for a country-based act.
Taylor is on tour in support of SPEAK NOW, and is currently slated to play 98 shows in 17 countries in 2011. Her 15-month, 107-date FEARLESS 2009/2010 Tour sold out arenas and stadiums in 88 cities in five countries spanning four continents.