Vicki Iovine is now facing her own new horizons as a recently divorced mother of four after 27 years of marriage. As Vicki embarks on a journey that she's coined her "next 27 years," she plans to not only continue sharing kindness with others, but also taking the time to be kind to herself. With this commitment to spreading kindness and giving back, Vicki is thrilled to be an ambassador for the My Expressions of Kindness campaign.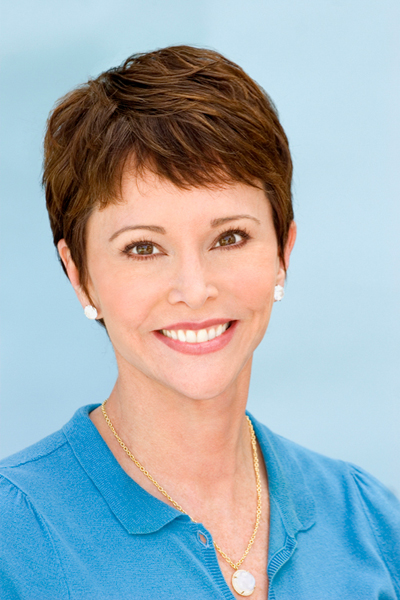 Through a quarter of a million dollar donation from Allergan, Inc., the maker of BOTOX® Cosmetic (onabotulinumtoxinA), the campaign benefits three deserving charities, including Dress for Success, an organization with a mission that's very close to Vicki's heart: providing women with the tools they need to succeed. Allergan will make a $25 donation on behalf of each consumer who shares their acts of kindness online.
A little bit more about Vicki: she is a former member of the board of directors of the Special Olympics, as well as a former television producer and radio talk show host. She was Playboy magazine's Playmate of the Month for its September 1979 issue and was photographed by Arny Freytag.
In this interview Vicki Iovine talks to Marta Walsh about her passion for writing and her successful "Girlfriend's Guide" book series. Her collaboration with BOTOX Cosmetic. Gives advice to anyone considering BOTOX for the first time. Makeup bag. Why Eunice Kennedy Shriver is one of her biggest inspirations. And future plans.
Marta Walsh: Where do you call home?
Vicki Iovine: I live in Los Angeles, CA—the city in which I was born.
MW: What drove you to write and how did your idea for writing "Girlfriend's Guide" book series come about?
VI: With my first pregnancy, I felt like I was doing everything wrong—at least according to the books that I was reading. Remember, this was nearly 23 years ago and most pregnancy books were written by male doctors or postmenopausal women. I got too fat, I was too horny, I was cranky and nauseous and I was craving coffee. I ended up with a spectacular son in spite of my ineptitude, but even that didn't seem to make me feel like a "good mommy" right away.
I knew so much more when I got pregnant again a year later, but I still got too fat, burped unexpectedly and nearly stalked my husband for his attentions—in spite of the fact that I closely resembled the Dancing Hippos in "Fantasia."
By the time I got pregnant for the third time in four years, I was a little angry that I felt like such a complete failure as a pregnant woman. I started to suspect that it wasn't me who was wrong, but maybe all the "experts" I'd been listening to. There seemed to be so many Rules of Pregnancy being spread around by people without ovaries, or at least any that still functioned, and by other Stepford Wife Mommies who tended to hide the brutal truths and play up their own perfect pregnancies.
By the time I had my fourth baby in six years, I decided the whole Perfect Pregnancy thing was a conspiracy against encouraging mommies-to-be to follow their instincts, do their best, and then let Mother Nature take care of the rest. That's when I wrote the Girlfriends' Guide to Pregnancy—turns out, millions of other imperfect moms were feeling my pain and we bonded like sisters.
MW: How did your collaboration with BOTOX Cosmetic come about? What does your role as a campaign ambassador for BOTOX Cosmetic: My Expressions of Kindness campaign entail?
VI: I've received treatment since 2002 with BOTOX Cosmetic from a licensed and trained physician to treat my "11" lines between my eyebrows and have been very happy with the results. You know I can't help but share with my Girlfriends when I find a great thing.
As a long-time fan of the product, I was thrilled when Allergan, Inc, the maker of BOTOX Cosmetic, asked me to be an ambassador for the My Expressions of Kindness campaign. As part of the campaign, Allergan has donated up to a quarter of a million dollars to benefit three deserving charities–Children's Action Network, Make it Right, and the organization I'm supporting with ultimate Girlfriend, Vanessa Williams — Dress for Success.
MW: What advice can you give anyone considering BOTOX Cosmetic for the first time?
VI: It's important to see a licensed and trained physician to treat your "11" lines, and also be sure to do your research so you can ask the right questions.
MW: Why in your opinion BOTOX Cosmetic is a subject women shouldn't be embarrassed to talk about?
VI: First of all, any mother should be respected regarding nearly all of her decisions because she's earned the right to make choices. If I got over being embarrassed about having several medical interns reach their arms up to my cervix when I was in labor at a teaching hospital, I certainly can't be embarrassed about anything I do to take care of myself. I find the whole subject of shame regarding women; for their weight, their career decisions, their mothering decisions, their age, their fertility and on and on and on, so annoying that I'd like to do anything I can to relieve it.
MW: You are recently a divorced mother of four after 24 years of marriage. What advice can you give to women in similar situations on how to keep strong?
VI: What I'm most proud of about my divorce is that the father of my kids and I are still great friends and we speak almost daily, if not several times a day, to discuss how the kids are doing and what their schedules or concerns are. Our children have been placed ahead of ALL other considerations—NO MATTER WHAT!
My other advice is to trust that there is life after divorce—which I now know from experience—and it's great. Sometimes it's lonely, especially at night, but I took up hobbies like knitting, reading and jigsaw puzzles with the kids so that I was occupied at home with them and not taking on a big social life for the first year.
And, of course, I think that my Girlfriends who have been there, done that, were my greatest comfort. They were my dates to movies, writers' workshops, dinners and many of the social functions I used to attend with my former husband. Girlfriends, at least for me, seem to be the answer to most of life's crises.
MW: What's in your makeup bag?
VI: Carmex, lipstick and translucent powder. I'm terrible about refreshing my makeup throughout the day and the best I can do is avoid chapped lips and a shiny forehead.
MW: What was the first film you've ever watched on a date?
VI: This is really aging me, but it was the Franco Zefferelli production of "Romeo and Juliet." I cried so hard that I think I scared the poor guy to death. He was just there to see "Juliet's" bare breasts, I think, which all the boys in middle school were talking about!
MW: What and who inspired you?
VI: As a child, I was an avid reader of biographies for school kids. I loved the stories of Betsy Ross and Abigail Adams and Eleanor Roosevelt. When I got older and realized that I wanted to write for a living, I was hugely influenced by Tom Wolfe, Nora Ephron, Erma Bombeck and Charles Dickens (who was also a popular writer of serialized articles and stories.)
As an adult and for the last 25 years, my inspiration and mentor, of sorts, was Eunice Kennedy Shriver. I met her through my volunteer work for Special Olympics, the sports training program for people with intellectual disabilities, before I got pregnant with my first child and I have devoted much of my time to that amazing program ever since. I have learned the power of "Fierce Mothers," as I call them—the women who will do anything in their power to make sure that their children will not be overlooked or excluded. We mothers are so strong and determined that we can do almost anything where children are concerned.
Eunice Shriver passed away a year ago, and I still miss her every day. She taught me everything from how to listen to children, how to join in with them in their play, how to raise money and awareness for a movement and even how to respond to an invitation to the White House!
MW: What's next for Vicki Iovine?
VI: In late 2011, my next book, Girlfriends' Guide to Teenagers, will be released by Pocket Books. In the meantime, I am a featured writer for HuffingtonPost.com—usually on Fridays in the Living Section. Oh yeah, and I am in love again, Girlfriends!!