Vogue's own André Leon Talley and influential fashion blogger and model, Hanneli Mustaparta will be hosting a special live one-hour webcast of Fashion's Night Out: The Show!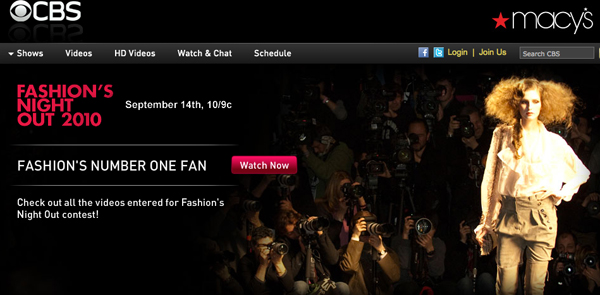 CBS.com announced today a special live one-hour webcast of FASHION'S NIGHT OUT: THE SHOW, the largest public fashion show in New York City history, hosted by Vogue Editor-at-Large André Leon Talley and influential fashion blogger and model Hanneli Mustaparta, Tuesday, Sept. 7 beginning at 7:00 PM, ET.
Talley and Mustaparta will lead the live streaming coverage of the fashion show, presented by Macy's and Maybelline New York, which will be broadcast live on CBS.com from New York City's Lincoln Center. The show will feature more than 150 top models and showcase fall's trends as determined by Vogue and created by the world's top designers and brands.
"As CBS.com continues to be one of the top sites in the entertainment field, it will prove to be the perfect home for an event of this magnitude," said Anthony Soohoo, SVP & GM of Entertainment & Lifestyle at CBS Interactive. "We are thrilled to be able to allow our millions of users a first look at fall's hottest trends in addition to inspiring awareness of the much-needed economic stimulus that Fashion's Night Out provides."
On the heels of the webcast, CBS will broadcast FASHION'S NIGHT OUT 2010 on Tuesday, Sept. 14 (10:00-11:00 PM, ET/PT). The special will give viewers a behind-the-scenes look at the making of Fashion's Night Out, focusing on year two of the event, the months of intense planning and preparation, and tracking the night itself as it unfolds across the globe. Cameras will follow celebrities, designers, editors and retailers as they prepare for one of the most anticipated events of the year, providing a unique view of the creative and logistical work that goes into coordinating an event of this scale.
Also on CBS.com, the FASHION'S NIGHT OUT 2010 Web site at cbs.com/FNO will contain new content daily of exclusive behind-the-scenes footage and photo galleries in preparation for the event, as well as sneak peek videos from the CBS special. Additionally, the search for Fashion's Number One Fan is currently underway on the site, where fashionistas can upload 30- to 90-second videos explaining why they love fashion and why they should be chosen as Fashion's Number One Fan for a chance to win a trip to New York City and Fashion's Night Out 2010.
Now in its second year, Fashion's Night Out, a worldwide initiative to celebrate fashion and support local economies, was launched in 2009 by Vogue, the Council of Fashion Designers of America, NYC & Company and the City of New York in response to the global economic downturn. In New York City and across the country, participating retailers will stay open until 11:00 PM on Friday, Sept. 10, and offer an array of in-store celebrations, including designer and celebrity appearances, fashion shows and more. In New York alone, over 1,000 participants have already signed on to join in the event. Across the country stores in over 100 cities will celebrate on September 10.
For more information on the webcast and on FASHION'S NIGHT OUT 2010, please visit http://www.cbs.com/FNO.