I stumbled upon a brilliant interview with Lanvin designer Alber Elbaz who is a big inspiration of mine. The interview is titled The Future Of Fashion, Part Six: Alber Elbaz and it was written by by Dirk Standen for style.com.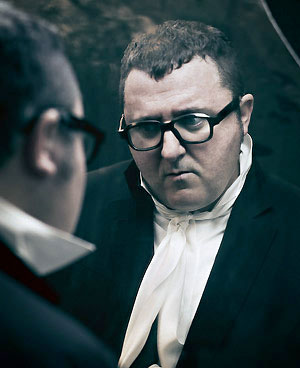 Here's an exert:
Talking about instant successes, have you followed the rise of the fashion bloggers?
I have to tell you, I love bloggers. And I'm not telling you that because I'm [trying to] bribe them. Every morning I wake up and I see the blogs. There is something very innocent. There is something very honest. You can say, OK, they didn't have the experience of seeing things. But again it's another medium. That's their opinion and it's interesting to see how politically incorrect they are. Of course, when they say, "Oh my God, I love it," I'm extremely happy.
And when they say, "Oh my God, it's a piece of shit," I hate it…We are living in an instant society, so everything has to be quick and everything has to be big and everything has to be now. And I think this is also a reflection of society, so it's not something that we can sit and judge and say, well, I think it's right or I think it's wrong. It's the reflection, the mirror of our society, and [the same applies] to what we are doing. We are being accused that some models are anorexic, but we as fashion designers cannot be blamed, because you know, when I talk to women around the world, rich and poor and young and old and intellectual and not, what they want to be is skinny. You ask them, what is your dream? It's to be skinny. That's all they want, so this is something that's happening in the world. And you know what? Me, as a designer that is not exactly skinny, all I want is comfortable clothes. All I want is beautiful. I mean, I like gray hair, I love wrinkles. But this is me. That's why our logo is the mother and the daughter. I always feel that I have the ability or I have the luxury to design for younger and for older and for skinnier and less skinny. I feel more versatile about it.
Do you think that our obsession with beauty and celebrity might change?
I think it's two different things. There is an obsession with beauty, and if there's an obsession with beauty, I want to be there, because I'm obsessed with beauty, but beauty in my own eye…But now when you talk about celebrity, that's another issue. I don't know anyone who doesn't read all those celebrity magazines on airplanes. I mean, everyone I know does that, so we're all fascinated with that. It's kind of like the dream of the twenty-first or the twentieth century…But there I have another issue. I feel that some celebrities think that because they are famous, they can do fashion. Imagine if I want to be now a dancer. Trust me, I can't. I can't jump. I can't even limp from one point to another. I feel that there is this kind of confusion. Everybody wants to do everything, everybody needs to do everything, and everybody feels that he can. And I'm still feeling that a dancer should dance and a chef should cook and a singer should sing and a designer of clothes should do clothes. Because the moment we try to do everything for ourselves, we're becoming very mediocre in what we do, and we don't go to extremes and we don't touch excellence. And I prefer to touch excellence.
Read full interview  in style.com