Rebecca Taylor with lead stylist Dai Michishita for Cutler/Redken Salon. Friday, February 10th, 2012 / 2pm, Lincoln Center – The Stage.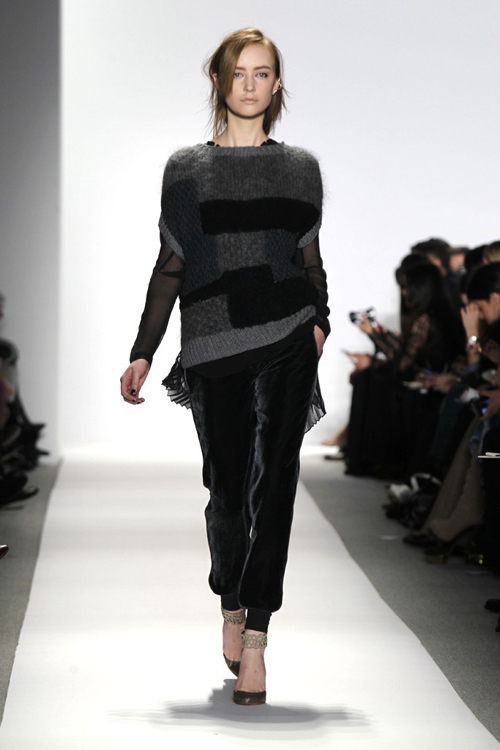 Backstage at Rebecca Taylor with Cutler/Redken Salon
Inspiration: Rebecca Taylor's gone downtown, offering this season a dark side: a nod to grunge with rich layers saturated in deep colors like charcoal, black, navy and bordeaux. For hair, Dai wanted to bring to life that edgy, downtown girl feel, a bit of dirty Parisian chic, and did so with heavy fringe bangs and tousled straight hair loosely clipped back.
Runway hairstyles New York Fashion Week Fall 2012
How to Step by Step:
Blow dry hair and create part on the left side.
Braid a corn roll down the hairline behind the right ear, sewing into it 3 layers of (natural hair) extensions.
Cut heavy fringe bangs, angling over the right side of the face.
Pull hair back low and split in half.
Twist both sections towards each other and lock in place with a clear elastic.
Spray Redken Fashion Work 12 to lock into place.
Muss up/tease the top layer to create texture.
Products Used:
Redken Fashion Work 12 Versatile Working Spray – $17.00 – www.redken.com