All Posts Tagged With: "high definition makeup"
Loving the Make Up For Ever HD Complexion Starter Kit. In fact, I'm loving Make Up For Ever makeup in general lately.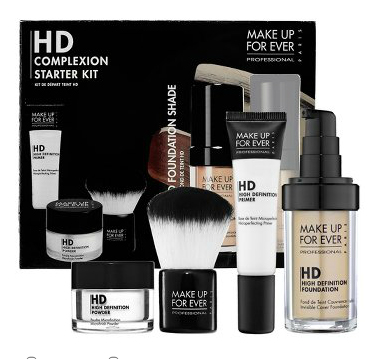 Make Up For Ever high-definition makeup
"An essential kit for achieving a flawless, high-definition complexion in three simple steps."-according to Make Up For Ever
The Kabuki Brush is this set is super soft, a must-have. The Microfinish Powder is light and colorless so it just sets your makeup but doesn't change your foundation color, it's neutral.
NEW YORK, March 16, 2011 /PRNewswire/ — MAKE UP FOR EVER, the Paris based professional make up brand coveted by top industry artists, is launching its first ever print and online make up campaign that has not been digitally retouched (the ads have been certified by a notary public). The ad depicts a beautiful woman snapping a photo of herself, highlighting the brand's HD Invisible Cover Foundation which provides a photo ready finish after every application. HD Invisible Cover Foundation was created to be used in front of unforgiving high definition video cameras and provides results so flawless that the need for retouching has been eliminated. The campaign launches online March 16th, 2011, and will appear this spring in issues of select national magazines.