All Posts Tagged With: "Kentucky Whiskey"
FarmHouse Fresh introduces Bourbon Bubbler body scrub that exfoliates using real Kentucky Whiskey, brown sugar, vitamin E and rice bran oil. Comes in one size (available in a 12 ounce glass jar; retail price $32.50). The brown sugar helps remove dead skin and stimulates new cell growth, while the non-greasy bourbon and rice bran oil allow for a squeaky-clean dry-down with no greasy residue. The scrub is paraben and sulfate free. Bourbon Bubbler treatments available at spas now available in your own bathroom.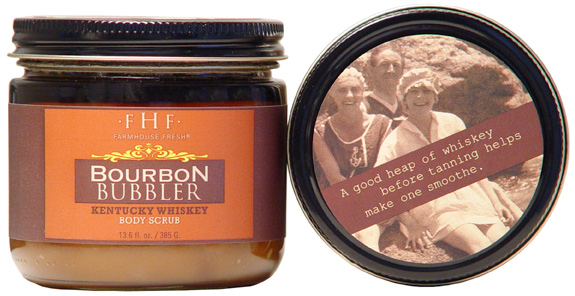 The FarmHouse Fresh Bourbon Bubbler Body Scrub is available online at farmhousefreshgoods.com, in finer gift stores and can be enjoyed at luxury spas and resorts across the country.