All Posts Tagged With: "Proactiv Soltion"
Watch my video blog about my favorite products from Proactiv and why I like them:) Proactiv you see is not just for teenagers with acne but also for adults such as myself who have the occasional breakouts from stress.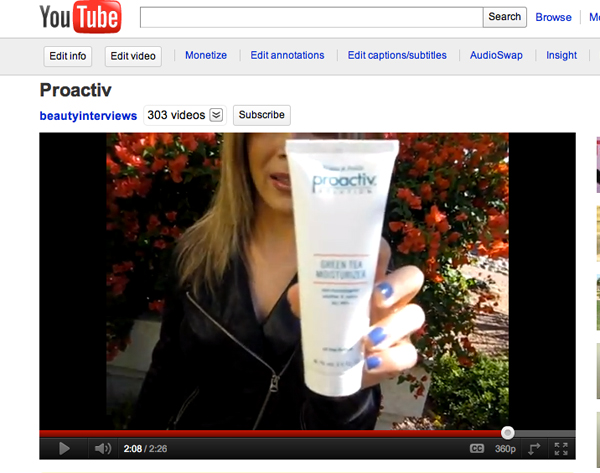 Marta Walsh is talking about Proactiv skincare products…
Why so many Hollywood stars use Proactiv Solution Brooke Shields, Jessica Simpson, Kelly Clarkson, Elle McPherson, Vanessa Williams are all swearing by Proactiv Solution skin care.   Their new celebrity addition is Lindsay Lohan.  What is Proactiv Solution?  Proactiv is a dermatologist-developed acne skin care that cures acne and gives you a clear complexion.  It is a system, or as Proactiv describes it a Combination Therapy, that helps your skin heal blemishes and helps stop new ones from forming in three quick, easy steps.  Even after blemishes disappear, you must continue to use Proactiv treatment to stop new blemishes from forming. Combination Therapy means using several different medicines in one system to help banish acne.  Proactiv Solution was created by two doctors dermatologists Dr. Katie Rodan and Kathy Fields.  It took them 5 years to develop this revolutionary system that treats mild, moderate, and heavy acne prone skin types. 
These are the three steps to a beautiful acne free skin using Proactiv solution.  In step one use Proactiv Renewing Cleanser which is oil free and contains tiny smooth grains that gently exfoliate dead skin cells and other impurities.  This cleanser also contains a prescription grade Benzoyl Peroxide that penetrates pores and attacks bacteria to heal blemishes fast.  In step two use Proactiv Revitalizing Toner which is a refreshing, alcohol-free toner that removes dead skin cells, unplugs pores and helps remove excess oil so your skin looks and feels refreshed. Soothing botanical agents gently balance your skin tone. In the final step, use Proactiv Repairing Lotion a light, oil-free lotion that contains finely milled prescription-grade benzoyl peroxide to heal blackheads and blemishes and helps prevent future breakouts.