Anne Hathaway stuns in a MARCHESA dress and Georgina Chapman for Garrard earrings at the at the Los Angeles Valentine's Day Premiere.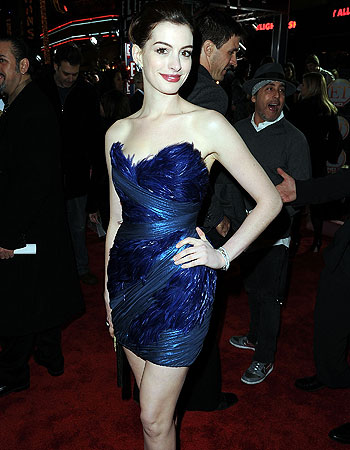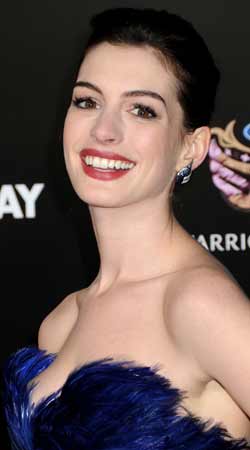 Co-founded by Georgina Chapman and Keren Craig, the company's namesake and muse is the noted eccentric European style icon Marchesa Luisa Casati. The collection, designed by Georgina Chapman, is available in the United States at Bergdorf Goodman, Neiman Marcus, Saks Fifth Avenue and specialty stores nationwide. Internationally it can be found at Harrods in London, Holt Renfrew in Canada, Joyce in Hong Kong, Alothman in Kuwait and other prestigious stores worldwide.
Georgina Chapman's Jewelry collection for Garrard Launched October 2009 at Garrard Stores Worldwide.
Garrard, the London-based jewelry house synonymous with rich heritage, innovative design and renowned craftsmanship with fellow British designer, and one of the fashion industry's brightest stars, Georgina Chapman. Chapman has unveiled a limited edition collection of fine jewelry infused with color, charged with energy and based on designs that stir the imagination across generations. The Collection, Georgina Chapman for Garrard, launched in Fall 2009
About Garrard:
Garrard, the international jewellery brand with a cultural heritage of unparalleled richness, was founded by master goldsmith George Wickes in 1722. He received his first royal commission in 1735. By the time the firm had passed into the hands of Robert Garrard in 1802 – whose name it still bears – creating designs of unmatched magnificence for society and royalty had become a matter of course. Garrard's inspiring collections can be found today at its flagship stores in London's Albemarle Street, Beverly Hill's Rodeo Drive, and New York's Soho. Garrard's creations are also on display in the permanent exhibition in the Tower of London, where the Crown Jewels reside. Garrard's legacy of devotion to the highest degree of workmanship has been the company's trademark since the first designs drew the attention of the world nearly three hundred years ago. Garrard continues to passionately embrace the past by creating tomorrow's heirlooms today.