NARS worked with Anne Hathaway's makeup artist Molly Stern for the premiere of her film Rio in Los Angeles. Creating a look to coincide with her chic frames and purple "rock 'n roll" dress, Molly played up her eyes and kept her lips nude with the help of new Summer 2011 products Bolero Velvet Matte Lip Pencil, and Mayflower Lipstick.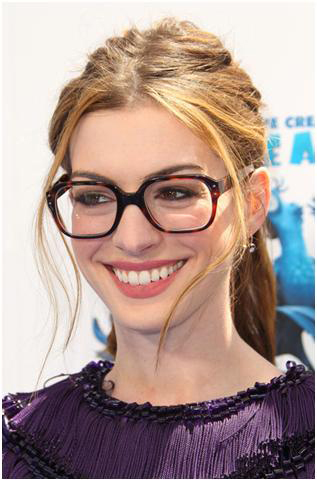 "The new Bolero Velvet Matte Lip Pencil is the perfect apricot nude, with a dash of baby pink," said Molly about Anne's lip color. "We wanted to keep it balanced, but fun and fresh. We were listening to Patti Smith while getting ready – so we incorporated a bit of a rock 'n roll edge!"
The complete list of NARS products that Molly used on Anne Hathaway:
FACE
NARS Copacabana Illuminator (NEW for Spring 2011!)
NARS Sex Appeal Blush
EYES
NARS Daphne Eyeshadow
NARS Exotic Dance Duo Eyeshadow (NEW for Summer 2011! For now try the frosted ginger side of Isolde Duo Eyeshadow)
NARS Coconut Grove Eyeshadow
NARS Larger Than Life Volumizing Mascara
LIPS
NARS Bolero Velvet Matte Lip Pencil (NEW for Summer 2011!)

NARS Mayflower Lipstick (NEW for Summer 2011!)
(For now, try Happy Days Velvet Gloss Lip Pencil for the combination of shade and shine)
All products are available at www.narscosmetics.com; Summer 2011 products are available beginning April 15th.