Bake Sale at philosophy's Chandler and Mesa, AZ stores!
To help raise money for and support Cookies for Kids Cancer — an organization created to raise awareness of and funds to support research for new and improved therapies for pediatric cancer through the concept of local bake sale. Cancer remains the number one disease that claims the lives of our children. Each year cancer kills more children under the age of 18 than asthma, diabetes, cystic fibrosis and AIDS combined.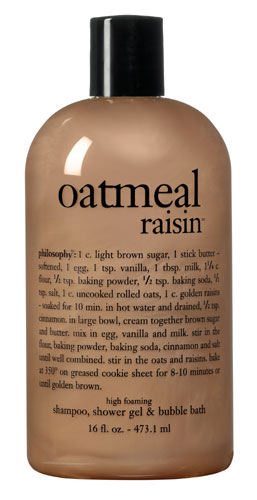 If you can't make it you can pick up Philosophy's Oatmeal Raisin shampoo, shower gel & bubble bath (image above) which donates 100% of the net proceeds to cookies for kids' cancer!
For more information on Cookies for Kids Cancer please click here: www.cookiesforkidscancer.org.
WHEN & WHERE:
Saturday, August 29th from 10am – 4pm
the philosophy store at casa paloma
7131 west ray road
Chandler, Arizona 85226
480-961-4673
the philosophy store at dana park
1660 south val vista drive
Mesa, Arizona 85204
480-926-0775
Facts About Pediatric Cancer:
Pediatric cancer is referred to as an "orphan disease" because there is little or no profit to be made by the pharmaceutical companies and the reason why they ignore pediatric cancers for the most part.
Each year in the U.S., nearly 13,000 children and adolescents are diagnosed with cancer. That's the equivalent of two average size classrooms diagnosed each school day.
Today about 75% of children diagnosed with cancer become long-term survivors yet in the U.S. cancer remains the leading cause of death from one year through adolescence; more than any other disease. In the early 1950s, less than 10 percent of childhood cancer patients could be cured, proof that research can and is making a difference.
Historically, some of the most basic and essential treatment strategies now employed in the fight against cancer – such as multi-agent chemotherapy and combined modality therapy – were developed through pediatric cancer research.
In the U.S., combined, the cancers of children, adolescents and young adults to age 20 are the sixth most common cancer in the U.S.
Recent reports indicate that nearly two-thirds of childhood cancer survivors experience significant medical problems resulting from their original cancer and/or its treatment.