This Fall, Bond No. 9 Dares to Bottle MONEY (Sort of.):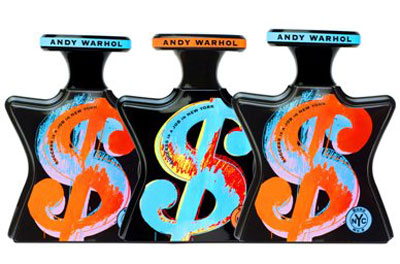 Think rich, look poor."-Andy Warhol
At last … Bond No. 9 is dropping all pretenses and selling MONEY! (Sort of.) Introducing Bond No. 9's latest eau de parfum, Andy Warhol Success is a Job in New York, with a $cent as $eductively $weet as a dollar $ign.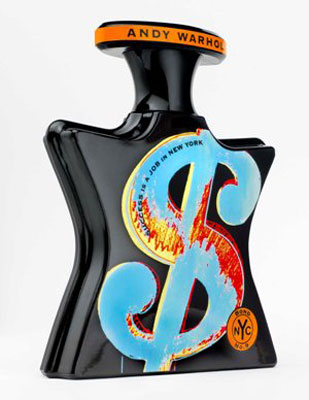 Perfumes have always trafficked in the elusive and the taboo. And since nothing could be more elusive than money, particularly in our current economic downturn, Bond No. 9 turned cash the inspiration and focus for the latest in the Bond No. 9 series of collectible Andy Warhol eau de parfum. Appearing on both sides of the bottle is an image of one of Warhol's iconic subjects, the almighty dollar sign created by Warhol in 1981, while inside is a fittingly rich and beckoning scent they've named Andy Warhol Success is a Job in New York.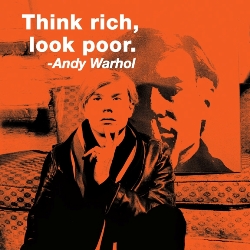 Prophetically, Warhol's first assignment in the '50s as an illustrator was for a Glamour magazine article entitled "Success is a Job in New York." The title was later used for a book about Warhol's early career. Through hard work and leveraging his immense talent as a draftsman, Andy Warhol would become one of the most successful commercial artists in New York City thus laying the foundation to become one of the most important fine artists of the 20th century. Wearing it will bring untold wealth. (Just kidding, but in this economic downturn we all need a sense of humor.)
So here is the world's first money-oriented perfume. Success breaks the rules of romantic perfume subjects, but it suits the Warholian consumer sensibility. Throughout his career, Warhol was fascinated with the connections between art and money. In the '60s, he painted Pop Art canvases with grids of banknotes, and he stuffed dollar bills into soup cans. Then in the early '80s, just as Reaganomics and Dynasty got under way and paintings became consumer items, he isolated the image of the dollar sign—sinuous yet with that ominous slash down the center—in a series of silk-screened "portraits."
The Bottle: The Warhol image they chose for the Success bottle is not your typical banker's dollar sign. Instead, this one has an in-your-face, trembling quality, dripping with paint and with seemingly tentative border outlines revealed—as if uncovering the connection between art and money. The colors they  selected from the Warhol series of Dollar Signs in 1981, tongue-in-cheek neons (in fashion this fall), are unorthodox too: coral for the front of the bottle, bright blue for the back.
The Perfume: Just like money, the scent is genderless—a warm and spicy gourmand. And just like money, it lures and intoxicates all who give it a sniff. Its spicy-citrussy top- notes—coriander, cardamom, mandarin, bergamot—lead into a throbbing heart of jasmine, tuberose, rose, plum and pimento (of all things) that eventually segues into an oriental base of vanilla, patchouli, and amber.
Bond No. 9 Andy Warhol Success is a Job in New York, available at all four Bond No. 9 stores in New York and at select branches of Saks Fifth Avenue.
Launch date: October 1st, 2009
Suggested Retail Price: $220 for 100ml; $145 for 50ml
Bond No. 9 wants your empty perfume bottles for recycling — all of them! Just bring your empty glass perfume bottles—Bond No. 9 or anyone else's—to Bond No. 9 boutiques and Bond No. 9 perfume counters at Saks Fifth Avenue nationwide. They'll take care of the rest. And by way of an eco-friendly thank-you, they'll give you a refillable pocket spray. Free with any purchase!
Possible trivia, lol: ** Aside from everything else, Bond No. 9 is guessing that Bond No. 9 Andy Warhol Success is a Job in New York is the longest perfume name in history.