The autumn wedding season is arriving and the perfect wedding cannot fall short of the perfect hairstyle. Along with the ultimate wedding dress, shoes, and veil, achieving the perfect hairstyle is essential for every bride-to-be.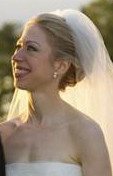 Chelsea Clinton
From long and straight tresses to an elegant updo with loose curls, finding the perfect style to complement your bridal look can be quite the task. Inspired by some of our favorite Hollywood starlets who have tied the knot this year, Latrice Strader, Master Hairstylist and Owner of Destiny De'Ve Hair Salon in Washington, D.C. explores the bridal styles of five celebrity newlyweds who mastered their wedding day hairstyles.
"This year the top celebrity bridal hairstyles each exuded a look of elegance and grace while maintaining a glamorous edge," says Latrice. Whether you are looking for a classic, glamorous, or sexy bridal hairstyle, the hairstyles below will surely suit your fancy for your special day. Latrice explains how every woman can find the celebrity bridal hairstyle that fits them best.
Chelsea Clinton's wedding hairstyle: Regal Beauty. America's favorite first daughter Chelsea Clinton, tied the knot in a beautiful dress and ceremony, in addition to a classic feminine French twist. "The twists and braids are perfect for Chelsea since she is young, vibrant, and is a part of American royalty" says Latrice. "For any bride desiring a classic look with a lot of volume and texture, this French twist is a top bridal hairstyle—perfect for any princess fairytale wedding" Latrice continues.
Megan Fox's wedding hairstyle. Foxy and Simple. Transformers star Megan Fox shows off her shiny jet-black hair on her big day by keeping it straight and simple for her wedding. "Straight hair is definitely a sexy way to highlight natural beauty," says Latrice. "For any bride who desires a sexier and more natural look, straight hair is the perfect hairstyle" Latrice continues.
Carrie Underwood's wedding hairstyle: All-American Girl Updo. Carrie Underwood's beautiful smile and voice aren't the only things touching hearts all around the nation. Carrie's golden tresses are gathered into an elegant updo with loose curls that are easy to work with. "Carrie's side swoop bangs complement her loose curls perfectly and add a fun yet beautiful look to her style," says Latrice.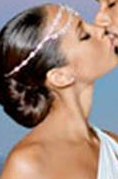 Alicia Keys' Wedding Hairstyle: Fit for a Queen. Grammy award winning Alicia Keys continues to set trends even on her wedding day. Incorporating a diamond encrusted tiara with an elegant chignon tucked and pinned away from her face, Alicia exudes a regal look on her big day. "Alicia's beauty is radiant with this simple yet glamorous hairstyle," says Latrice. "It's a super chic and classic look that highlights her beauty well, especially with the added touch of the tiara."
Khloe Kardashian's wedding hairstyle: Gold, Elegant Waves. Khloe Kardashian's perfectly crimped locks are highlighted by her luscious golden highlights for her big day. Khloe's gold streaks bring out her glowing fair skin as well. "Gold and/or deep brown highlights are a great way to highlight your natural skin tone if you have naturally dark hair," says Latrice. "Shades of lighter colors for those with naturally lighter hair can also bring out beautiful glowing skin as well."
her 12 year tenure, Latrice built a reputation for her expertise in multi-cultural styling and fashion forward styles that demand attention.
About Destiny De've
In 2007, Latrice and her husband David Strader opened Destiny De'Ve Hair Salon and Spa in Washington, D.C. The salon offers a variety of treatments to re-balance and re-energize your mind, body and soul. Latrice, and her salon, is known for delivering sassy hairstyles, natural weaves, vibrant hair color, precision hair cuts and stimulating spa treatments that would have anyone looking their very best. To view a full menu of hair and spa services, please visit www.destinydeve.com