I'm super excited to share with you my interview with Dr Bracci of VERVE Medical Cosmetics in Midtown Manhattan, 50th street between 3rd and 2nd avenue. I visite Dr Bracci office on my trip to NYC last week and had the pleasure to meet with him. He was the nicest in person. I even got to try out some fillers (I can't help it I'm a beauty blogger after all I need to know). This time I had Radiesse. I am very happy with the service and the results. So here is my Q&A with Manhattan's darling Dr Bracci.
Dr Bracci of VERVE Medical Cosmetics
Marta Walsh: Where do you call home?
Dr Bracci: New York city.
MW: When & why did you first become interested in medicine particularly the skin?
Dr B: I first became interested in the non surgical cosmetics about 12 years ago when laser skin care treatments started to become popular – and I had a sense that people really wanted a non-surgical alternative. It is so exciting to see that we now have all of these new non- surgical tools to make people look better. I have always been interested in esthetics's and it just made sense for me to follow my passions.
MW: What non surgical skin procedures do you specialize in?
Dr B: The art and science of esthetic injectables. I specialize in cosmetic injectables – to replace the lost foundation under the skin seen with aging "cosmetic fillers" , and botox type medicines that block the muscles that cause wrinkling of the skin ( look great not fake approach) .People think that aging is all about loose and excess skin – but much of the changes that go on with aging are really the loss of foundation that supports the skin . By artfully replacing the losses seen with aging with cosmetic fillers , and relaxing the muscles that wrinkle the skin (botox medicines) – we can not only restore a rested and younger appearance but provide prevention.
MW: What is your practice philosophy? What sets the VERVE Medical Cosmetics experience apart from the rest?
Dr B: Our goal is to make people look better in a natural way ( with out looking fake!)
This practice has always exclusively provided non-surgical esthetics – where by the vast majority of practitioners provide either surgical or medical based services in addition. The future of this industry is people seeking out dedicated centers to satisfy their esthetic needs , and other centers to satisfy their medical needs .
MW: What are some of your must-have skincare products from your own skincare line?
Dr B: The Eye bright ( super eye area treatment ), and the Pepstep x2 for firming and repairing skin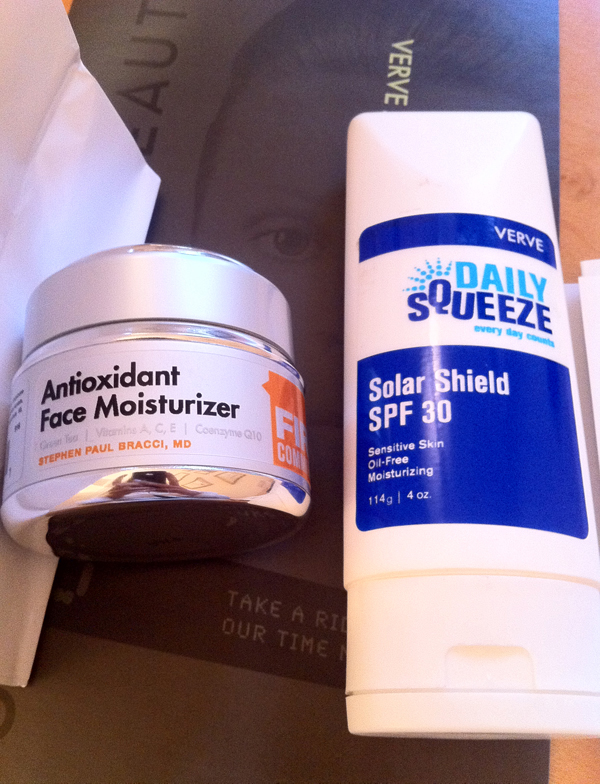 MW: Please demystify: What is the difference between Juverderm and Radiesse?
Dr B: Juvederm is somewhat thinner and is really good for finer lines , where by Radiesse is great for the typical person who need volume and some lifting.
MW: Why Botox?
Dr B: Botox is great for relaxing the muscles that wrinkle the skin – particularly around the eyes
MW: Do these treatments hurt?
Dr B: very little – as I always combine my fillers with numbing medicine and botox is small little pinches with baby needles.
MW: How long is the procedure?
Dr B: I provide these procedures all day long so I provide fillers in as quick as 5 minutes , and botox takes less than a minute to provide in most cases.
MW: Recovery time?
Dr B: recovery is usually very minimal – in most cases limited to temporary swelling and occasionally bruising that goes away.
MW: How long it last?
Dr B: depending on the area of fillers Manny patients have results that last a year and in some areas results have been seen to last up to 3 years. Fillers are generally indicated for the line between the nose and the mouth (nasal labial fold) , and other areas are considered off label at this time .
MW: Laser Hair Removal: how many treatments do we really need to get rid of hair for good? What advice can you give anyone considering these treatments for the first time?
Dr B: Laser hair removal is a process where by the goal is to permanently reduce the number of hair follicles with each treatment , so a series of 6 or more sessions are generally need to significantly reduce or fully eliminate the hair . Again my advice is to seek out the advice of a practitioner or center who provides these services on a full time basis.
MW: What non surgical skincare procedure do you recommend to women post pregnancy treating saggy tummies for example an other skincare changes?
Dr B: Pregnancy may bring excess skin in the abdomen which may respond to a non-surgical device that heats and shrinks the skin (for example thermage) – however these patients need to be well selected as patients with big needs (allot of excess skin) may be better doing nothing or consider surgery . My opinion is that non surgical tightening devices need to be matched wisely to the needs and goals of the patients, as some patients have needs that are bigger than non surgical devices can deliver .
MW: What does beauty mean to you?
DR B: Looking your best at any age – where by you don't cross the line of looking fake.
MW: What and who inspires you?
Dr B: People like Jack Lalanne – who inspired others to be their best and live an active healthy life style.
MW: What is your favorite place to dine in New York City?
Dr B: My favorite places are Italian restaurant that have great plant based foods – A Voce and Il Buco restaurants are two of my favorites because they prepare vegetables as if it is their focus.
MW: Marilyn Monroe or Elizabeth Taylor?
Dr B: Both are special and have really been known for their natural everyday good looks.
MW: When you are not busy helping women/men look their best where can we find you?
Dr B: I really enjoy fitness – I swim a mile several days a week , strength training with weights , and run.
MW: What's next for Dr Bracci?
Dr B: So Manny exciting things going on – with ever new cosmetic fillers coming out and non -surgical modalities to heat and shrink the skin – the future for this industry is very bright!
*****************
I would like to thank Dr Bracci at VERVE Medical Cosmetics in New York City for his time and interview.
Dr. Stephen Bracci
240 E. 60th St
New York, NY 10022
Disclosure: My visit to Dr. Bracci's office was complimentary.