New Perfume for Summer 2010: Loving the new EAU MEGA Viktor & Rolf MINI MEGA eau de parfum ($50 for 20 ml). Flowerbomb fans I suspect you might be 'on fire' to find out how EAU MEGA smells in comparison. Well, EAU MEGA is not as musky and it has a bit of a zesty, fresh, and fruity notes to it. But it's not that pure floral and pure fresh scent which I'm not into it, it's much more complex and rounded. For day time use perhaps. If I like a perfume, though, I wear it day and night, so as always feel free to make that decision yourself. All in all, EAU MEGA MINI MEGA is a very lovely and very wearable perfume. It ranks on my top list of best perfumes of all time. A big responsibility I know, but I just love it!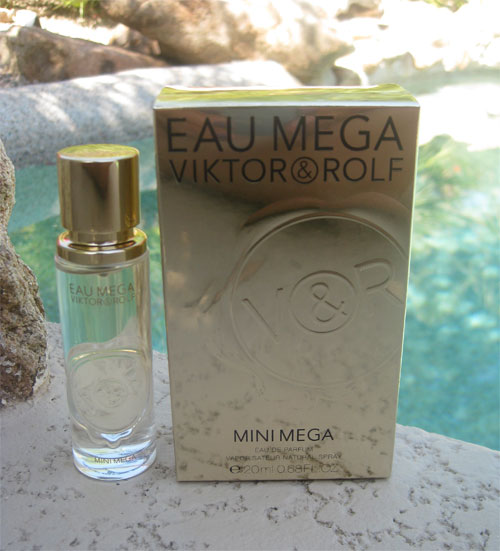 EAU MEGA Viktor & Rolf MINI MEGA Perfume. Fragrance notes: basil, sandalwood, peony, musk, aquatic notes, cedar, cashmere wood, white musk, citron, pear, jasmine, violet leaf.
EAU MEGA is back with MINI MEGA. "A new super heroine is born. Her world of beauty and glamour becomes reality, she megafies the world." Viktor & Rolf

When you open EAU MEGA Viktor & Rolf MINI MEGA Perfume packaging it reads: "Enter the world of Eau Mega, the fragrance larger than life".
In designing their new heroine's scent, Viktor & Rolf wanted to compose the score of a maximal fragrance with powerful charisma. EAU MEGA, the scent of seduction and femininity is now concentrated in a miniature bottle, like a precious vial that reveals the powers of an expectational woman; a woman of obvious glamour and extreme sensuality, whose grace and spirit are obvious at first and are incarnated in a vial that is discrete yet present, simple yet elegant, an accessory yet a must.
Where it is displayed, without limit or constraint, the power of MINI MEGA bewitches, as a dazzling demonstration that affirmation of strength and temper can be expressed in a refinement of an elementary paradox: MEGA can be contained in MINI, extravagance is expressed in the obvious, power is seen in its essence.
Available exclusively at Nordstrom.
Visit the Viktor & Rolf website at: www.VIKTOR-ROLF.COM