I'm excited to share with you my interview with Dayna Devon. Dayna is a longtime television personality, and former host and correspondent for the nationally syndicated entertainment show "Extra." She has been a regular entertainment commentator and celebrity guest host on CNN, Fox News Channel, MSNBC, "The View" and NBC's "Today."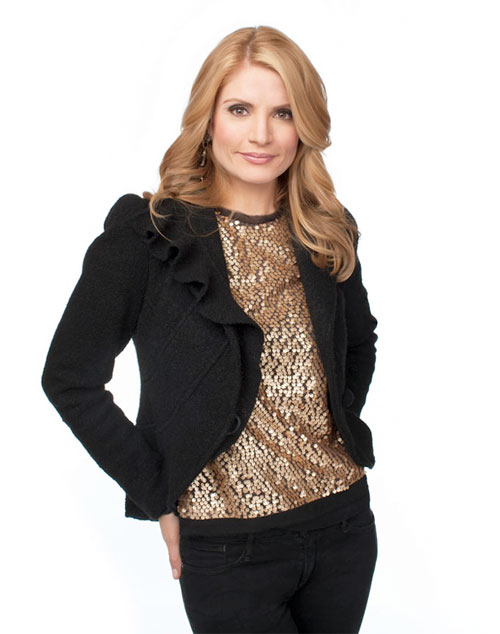 In this interview Dayna Devon talks to Marta Walsh about her beginnings as a journalist and TV Presenter. Gives advice to anyone considering JUVÉDERM for the first time. Reveals what's in her makeup bag and future plans.
Marta Walsh: Where do you call home?
Dayna Devon: Los Angeles, CA. I'm originally from Texas, but I love living in LA.
MW: Why did you decide on a career in Journalism and as a TV presenter?
DD: I always knew I wanted to be in television, but I was chicken. In the beginning, I tried related fields but it wasn't a fit. So, I gave broadcasting a try and worked my butt off. Finally, it paid off by getting a job at a small TV station in San Angelo, Texas and then moved up from there.
MW: What were some of your most memorable breaks in your career?
DD: When I got my first real TV job – that was huge. My biggest break, though, was definitely getting Extra. It was truly a dream come true!
MW: How did your collaboration with JUVÉDERM come about?
DD: I have always been open about using JUVÉDERM to fill in the lines around my nose and mouth. As I approached the "big 4-0" I decided to team up with Allergan to educate women about available options out there to help look and feel your best.
MW: What advice can you give anyone considering JUVÉDERM for the first time?
DD: Do your research! It's so important to visit a licensed and trained physician – go in for a consultation, be candid about your concerns and together decide if JUVÉDERM is right for you. For me, it is definitely right, as it lasts up to one year and gives me a smooth, natural result. And now JUVÉDERM XC has lidocaine so the treatment experience is more comfortable. No one would ever know about my treatment, but I tell everybody! You can visit Juvederm.com to find a local doctor and check out the JUVÉDERM Facebook page for my tips!
MW: How would you describe your personal style and what beauty means to you?
DD: My personal style has changed over the years. Casual-chic is more important to me now than beaded red carpet dresses. Tory Burch flats are just as important as Christian Louboutin heels.
MW: What's in your makeup bag?
DD: Raw mineral powder; MAC makeup blot powder; MAC lipstick in "Angel;" liner in "Soar;" and Cle de Peau concealer.
MW: What was the first film you've ever watched on a date?
DD: With my husband, it was American Pie 2 and we walked out.
MW: What one or two things some people may not know about Dayna Devon?
DD: I can sew and I'm also learning to speak Spanish, but the Spanish still needs some work.
MW: What's next for Dayna Devon?
DD: In addition to being a full-time mom to my two young kids, I'm training for a triathlon and working on a book proposal. I'm also looking at some different TV opportunities that are out there now.
I would like to thank Dayna Devon for a brilliant interview xo Marta
To learn more about JUVÉDERM visit www.juvederm.com