I'm so excited to share with you my interview with Molly Sims the supermodel, actress, and now the creator of an exquisite jewelery collection Grayce by Molly Sims. The official www.graycebymollysims.com website is launching this Wednesday, April 21st, 2010, where the collection will be sold.
Sims is best known for her appearances in the Sports Illustrated Swimsuit Issues and her role as Delinda Deline in the NBC drama Las Vegas. She is also an ambassador for Operation Smile.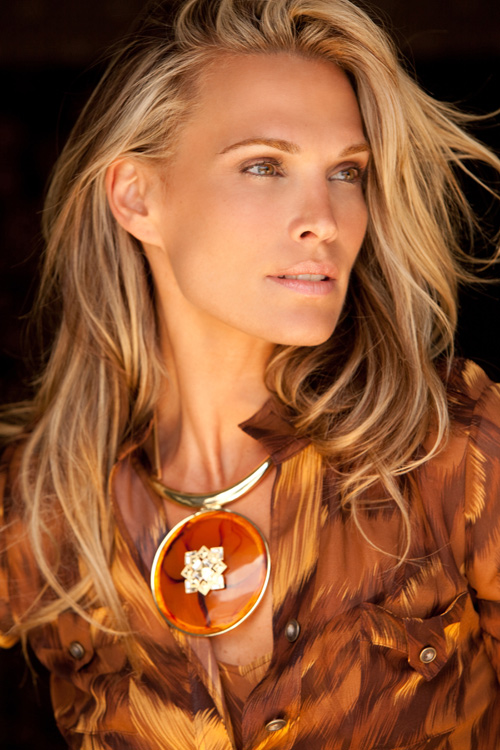 Molly Sims
In this interview Molly Sims talks to Marta Walsh on how she keeps in such impeccable shape. Gives advice to aspiring models. The creative process behind her jewelry collection Grayce By Molly Sims. What's in her makeup bag. Who would be on the guest list of her ultimate dream dinner party. And, future plans.

Marta Walsh: Where do you call home?
Molly Sims: Los Angeles because my two puppies love the house and it is home to them.
MW: You appeared in Sports Illustrated "Swimsuit Issue" many times. How did you and still do manage to keep in such impeccable shape?
MS: Tracy Anderson and Bikram Yoga. 4-5 days a week.
MW: What advice can you give to aspiring models?
MS: Don't spend all your money on clothes. Treat modeling like a business because it is and think how to parlay it into different things that interests you when you get older because one day it will end.
MW: What compelled you to create your own new jewelry collection, Grayce by Molly Sims the Collection at Henri Bendel?
MS: Growing up my mother instilled in me a true appreciation for jewelry and helped me to build my own jewelry wardrobe through her passion of going to estate auctions, flea markets and consignment stores. As I began modeling, I couldn't afford the clothes to get noticed so I would work my outfit around my jewelry pieces and it ultimately became what I was known for. I wanted to share my passion that my mother and I have had for over 15 years with girls everywhere that I could relate to.
MW: What type of woman do you see wearing Grayce by Molly Sims jewelry?
MS: Grayce is every woman- from the gypset/bohemian to the city sophisticate to the glamour girl and of course, the all-American.
MW: Which are some of your favorite pieces from the collection and what was the creative process like?
MS: I love the Crystal Point Layered Necklace because I love a good layering piece and I took the work out for you with this one! The silver and the gold blend so well that you can throw in an additional necklace or accentuate it with either color for earrings, bracelets, rings, etc. You can wear it in so many ways and it is the statement piece of my collection.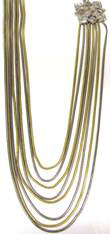 MW: Who are some of the people you look up to and the first to be included on the list of your ultimate dream dinner party?
MS: Oprah Winfrey, Sarah Jessica Parker, George Clooney, William Buffett, Steve Jobs and Elizabeth Peyton.
MW: What's in your makeup bag?
MS: Rodin oil, Pale Pink Cream Blush by Bobby Brown (and the discontinued Summer Tan), DiorShow Mascara, Sue Devitt eyeliner, Shu Uemera Eyelash curler, eye bright eye line pencil, and Chanel Eye Gloss.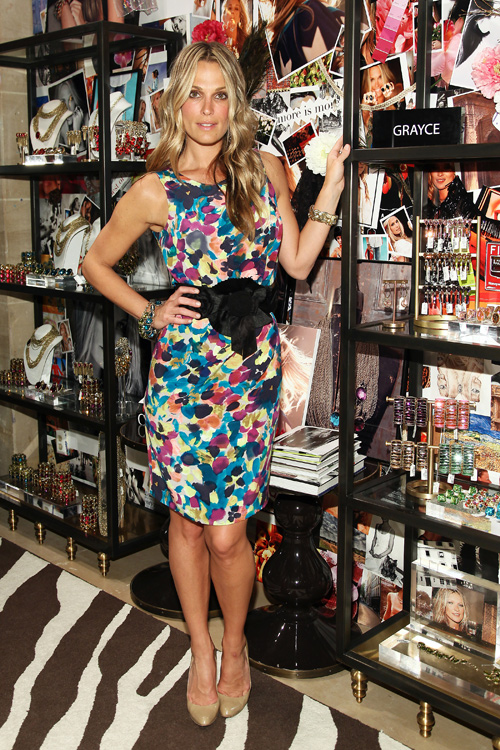 Molly Sims. Grayce by Molly Sims the Collection premiered March 23rd, 2010, at Henri Bendel Street of Shops, a pop-up shop in one of the flagship's iconic Fifth Avenue windows.
MW: What was the first movie you've ever watched on a date?
MS: Not sure of the first but the best was ABOUT LAST NIGHT.
MW: How would you describe your personal style and what's your philosophy about beauty?
MS: My personal style changes depending on which mood I'm in and where I'm at. That was my motivation in creating and developing Grayce by Molly Sims the Collection in that I wanted to appeal to every side of me. Sometimes I want to feel like a classic beauty and glamorous. Other times, I want to be edgy and sophisticated and feel like Sarah Jessica Parker. It just changes by the day!
MW: What's next for Molly Sims?
MS: Getting back into acting!
Thank you Molly Sims for the brilliant interview. We LOVE you:) xo Marta Walsh
Grayce by Molly Sims the Collection Launches at Henri Bendel

Grayce by Molly Sims The Collection at Henri Bendel Sneak Peek
Molly Sims and Mom at Henri Bendel