Celebrity hairstylist Marcus Francis worked with Felicity Jones and created her hairdo for the Los Angeles premiere of Like Crazy on Tuesday, October 25th, 2011.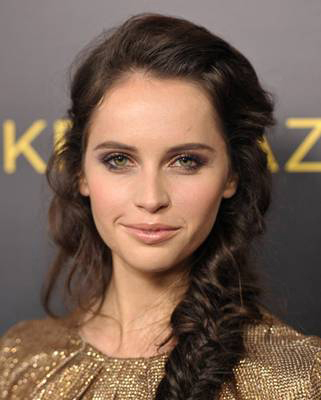 Felicity Jones at the Los Angeles premiere of Like Crazy
"Lately I've seen images from medieval times showing how detail is an ingredient to all their looks. Taking a natural approach to add a softness mixed with the armor-like gold texture of Felicity's dress, it inspired me to form an Arthurian woven fish tail for her movie premiere."
How to get Felicity Jones' hairstyle:
"Start with dry hair that's been shampooed the day before. Lightly spray Fekkai Tossled Wave Spray throughout the hair and scrunch with your hands as you dry. Take medium size sections and wrap with a double barrel iron, leaving out the ends and spray with L'Oreal Elnett Hairspray. Without combing through, shake out large sections to loosen up the texture and use a good amount of Oribe Dry Texturizing Spray throughout.
Bring your hair to one side leaving out a good amount of face framing layers on the other. Split into two large sections and begin to fish tail braid the hair by taking a small piece from the left side and crossing it over to the right. Take the same size piece from the right and now cross it over the left. Follow this pattern all the way to the ends and tie with an elastic. Loosen the braid by gently pulling apart each side to widen and bring out the fly aways.
Felicity's hairstyle shows us that when you take an unconventional approach and slightly undo your hair, it can give balance to something asymmetrical and soften a structured look."