Redken Creative Consultant Guido created an androgynous, rock 'n' roll look at the Fall 2012 Jean Paul Gaultier show, Saturday March 3rd, in Paris.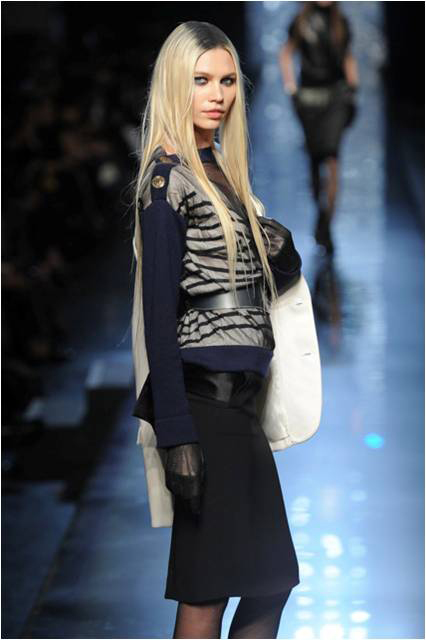 JEAN PAUL GAULTIER
The collection itself was dark and graffiti-inspired, clearly intended for the kind of girl you don't want to mess with.
Guido's look followed the spray-paint theme to a T, showcasing colored roots and a stick-straight style. We wouldn't have necessarily wanted to cross the girl in the Loewe Fall 2012 show yesterday either, but while Guido said this look also had a masculine side, the total look was more refined. The result was an elegant, chic look with a very polished finish.
"The hair is stick straight with long hair extensions so you get that rock 'n' roll kind of vibe. The look is very androgynous and girls and guys can wear it, which I think makes it cool as well. We're using bright colors to achieve dramatic color contrasts at the top of the hair near the center part. Different girls have different colors- black, red, blue, pink, silver- to create a graffiti –inspired look."–Guido, Redken Creative Consultant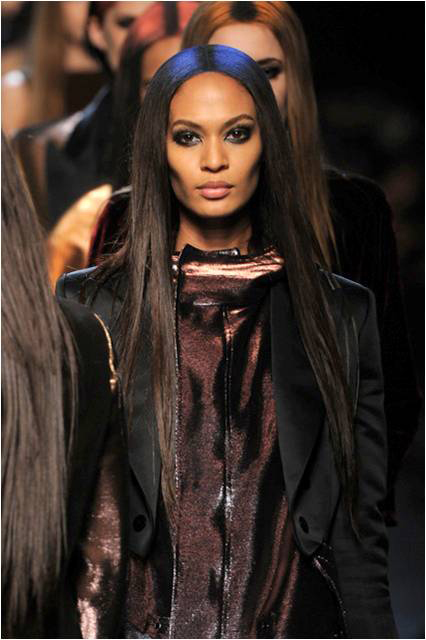 How to get an androgynous, rock 'n' roll hairstyle
1. Apply Extreme Anti-Snap to damp hair and blow-dry straight.
2. Create a clean center part.
3. Mist iron silk 07 onto hair and flat iron until stick straight.
4. Layer first fashion work 12 and then forceful 23 onto hair which gives the hair a more severe, straightened look.
5. Finish with a generous amount of shine flash 02 at the ends of the hair.
*For colored roots as seen at the show, we recommend visiting your local Redken Salon.