Combining beauty, style and love for travel, Founder and Creative Director of Jouer Cosmetics, Christina Zilber launches the new innovative collection of custom luxury cosmetics. Jouer, renown as a niche customizable cosmetic line, has been reinvented with a broader, sophisticated, modern perspective.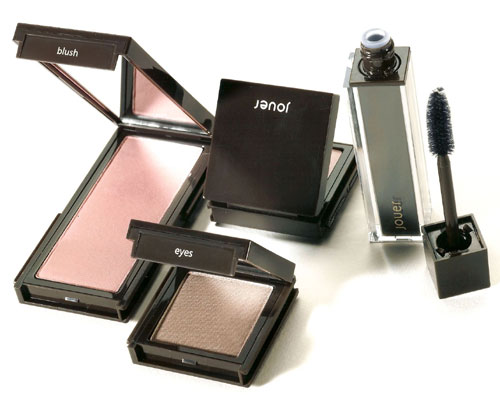 Jouer is designed to offer streamlined beauty to the modern woman. It's practical and portable, without sacrificing elegance or style. Multi-purpose products are complemented by color palettes that are soft, strong, and above all…classic. Jouer has added active ingredients that offer a perfect balance of beauty and treatment.
Jouer's star product lineup includes Luminizing Moisture Tint SPF 20 (hypo-allergenic, oil-free and loaded with multi-vitamins and multi-benefits), Age-Repairing Brightner and Concealer (with Dermaxyl Complex and Orchid Complex) and Mineral Perfector formulated to deliver a gorgeous, effortlessly beautiful complexion. Jouer's extended color collection, renown for ease of application and wear, includes moisturizing lipglosses, hydrating lipsticks, definers, conditioning lip enhancers, powder and crème shadows, tints, mineral powders, more!
Christina has taken her inspiration for the new collection from high fashion and crafted the art of capturing colors that best suit a woman's individual beauty and personal style. Jouer's signature connecting system with chic yet playful new rich chocolate brown packaging encourages women to create a personalized makeup palette to meet their ever-changing beauty needs.
Jouer Cosmetics first launched in 2004 as a simple, fun color line with compacts that connect to create custom makeup palettes. Zilber and her ingenious concept had nearly a cult following in the who's who of the beauty and entertainment industries. With the experience and success of her small color line, Christina saw this definitive opportunity to capitalize on her vision and embarked on a new venture to re-develop and expand Jouer into a full custom luxury collection.
For more information, go to www.jouercosmetics.com . Jouer, the customizable, travel-in-style collection, debuts this August exclusively at Henri Bendels, New York, New York