L'eau Par Kenzo Eau Indigo: As night falls, L'eau par Kenzo becomes Eau Indigo, a pair of sensual fragrances for him and her inspired by the seductive dance of color and scent as dusk sets on water. Fresh, zesty notes unfold into a sensual base built around an amber note. L'eau par Kenzo eau Indigo captures the moment when twilight skims over water's surface and the heat of the day tangos with chilly whispers of the night, releasing a unique scent suggestive of the possibility and adventure yet to come.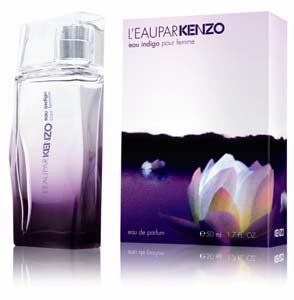 L'Eau Par Kenzo Eau Indigo Pour Femme:  a sensual floral with notes of bergamot, mandarin, jasmine, orange blossom, ylang, tonka bean and amber.
This eau de parfum has a gentle, zesty start with notes of bergamot and mandarin, then unfolds into a sunny floral heart of sambac jasmine and closing with a rich amber base. Sambac jasmine is a flower native to southern Asia, symbolizing purity, eternal love and nobility. Its fragrant flowers are often used to make leis and worn as an adornment for both its beauty and fragrance.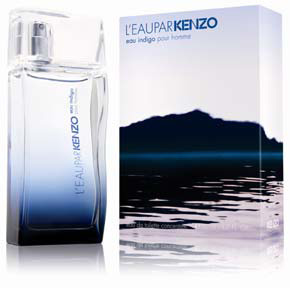 L'Eau Par Kenzo Eau Indigo Pour Homme: a fresh woody scent with ginger, citrus, elemi, coriander, vetiver, cedar, amber, labdanum and tonka bean.
Coriander and elemi give this eau de toilette concentrée an invigorating start before settling into a sensual woody base of vetiver and tonka bean. Elemi is a natural oil derived from the elemi tree in the Philippines. Said to have rejuvenating properties, it has long been used in medicinal and cosmetic formulas. It has a spicy, ginger scent.
Bottles + Packaging: A stylized architecture of sensual water in movement, the bottles evoke the curves of soft waves. The sun shines through the transition between light and dark. Deep blue for men, mysterious purple for women fit together to create a true indigo. On the boxes, an impression of the moment, indigo ripples through the water.
L'eau par Kenzo eau Indigo, for him and her, available in June 2009 at www.kenzousa.com  50ml / 1.7oz. SRP: $55.00