All Posts Tagged With: "Kenzo"
KENZO has transformed its beneficial waters collection into KENZOKI Perfumed Beneficial Waters, a set of refreshing body mists inspired by each of the KENZOKI plants—Energizing Bamboo Leaf, Euphoric Ginger Flower, Sensual Rice Steam and Relaxing White Lotus. At the heart of each new formula is plant water, rich in nutritive elements that are readily absorbed by the skin. The bottles have also been reinvented in glass, with pastel-colored caps by French designer Alban le Henry.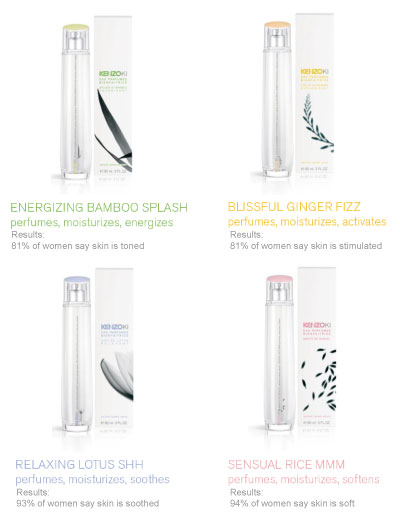 KENZO Fall Winter 2010 Fashion Show in Paris. Makeup by MAC Cosmetics.
The Makeup Look and Inspiration: "The KENZO woman is an amazing woman, very multicultural with elegance and you're never sure where she's from. Add a peach colour that is not too girly or bronzy, like a feel good colour that is reminiscent of the 80's. To give the look a 'sick' quality we have given them dry mustard lips!"-Tom Pecheux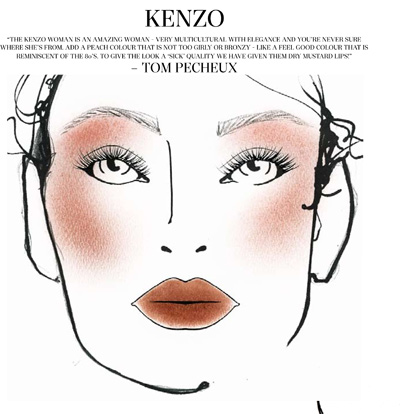 KENZO Fall Winter 2010 in Paris Face Chart by MAC Cosmetics
How to get the look. All products by MAC.
Eyes
Pigment in Lithe (available Fall 2010) used to highlight the lids using a 224 brush
Opulash Mascara in Bad, Bad, Black several coats applied to both upper and lower lashes
KENZO introduces a new film for its signature FLOWERBYKENZO fragrance.
FLOWERBYKENZO: The world is beautiful: In 2000, KENZO gave the red poppy life and presented the powdery floral fragrance FLOWERBYKENZO to the world. 10 years later, KENZO reinvents its signature with a new ad film. At dawn on the rooftops of Paris, a Japanese fairy appears to shower the city with poppies, transforming the skyline into a celestial field of flowers. She observes as the city comes to life, citizens awakening to find a whimsical playground above them. Directed by Patrick Guedj and introducing Lika Minamoto as the new face of FLOWERBYKENZO.
WATCH: Making Of FlowerByKenzo 2009
Hello KENZO fans! The new KENZO RYOKO fragrance collection is now available at www.kenzousa.com This year, the collection got a high color makeover. Designed by famed designer Karim Rashid, Ryokos are a collection of five colorful airport-friendly fragrance pebbles, each containing a favorite Kenzo fragrance. This is a limited edition collection available only online.
The Concept: Working with famed industrial designer Karim Rashid, Kenzo Parfums takes fragrance and design into uncharted territory with RYOKO –a pocket-sized, ultra-light fragrance pebble. Each smooth RYOKO (meaning travel in Japanese) houses one of Kenzo's favorite scents in a series of five colorful, ergonomically-designed stones that fit into the palm of the hand and is airport-friendly (less than 3 oz).
L'eau Par Kenzo Eau Indigo: As night falls, L'eau par Kenzo becomes Eau Indigo, a pair of sensual fragrances for him and her inspired by the seductive dance of color and scent as dusk sets on water. Fresh, zesty notes unfold into a sensual base built around an amber note. L'eau par Kenzo eau Indigo captures the moment when twilight skims over water's surface and the heat of the day tangos with chilly whispers of the night, releasing a unique scent suggestive of the possibility and adventure yet to come.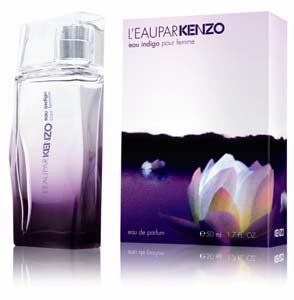 L'Eau Par Kenzo Eau Indigo Pour Femme:  a sensual floral with notes of bergamot, mandarin, jasmine, orange blossom, ylang, tonka bean and amber.
An ancient precious winter flower is the star of Kenzo's new, limited edition eau de parfum, FLOWERBYKENZO WINTER FLOWERS.
If you are into Japanese perfumes like I am, then Flower By Kenzo Winter Flowers Eau de Parfum is the fragrance for you. I seem to love Hanae Mori and Issey Miyake, and even Shiseido perfumes, so I was quite thrilled that I got the chance to sample a Kenzo perfume. The smell is very woody, fresh, and clean. I can see myself wearing Flower by Kenzo Winter Flowers Eau de Parfum in the evening when going out to a nice dinner and drinks. What I also like about Flower By Kenzo Winter Flowers is that it has a very distinctive scent, and doesn't smell like any other perfume. Everything about Flower By Kenzo Winter Flowers Eau de Parfum is like a work of art. Needless to say, it has a very sultry scent, and it is a definite keeper!  
This powdery, floral scent is inspired by Hellebore rose, which is known for its startling blossoms and fragile beauty against the stark winter landscape. Unlike the original FLOWERBYKENZO, WINTER FLOWERS incorporates a sparkling top note of mandarin, floral middle note of hellebore rose, and powdery base note of absolute vanilla.
Kenzo celebrates its 20th anniversary with the release of Peace, a limited-edition fragrance that pays tribute to the era of the 1970s. The bold scent is a mixed floral, woody musk that captures the deep desire for freedom in both men and women.
The magnetic purple bottle is embossed with the symbol of peace and love-to carry the message around the world-and comes in one of four zany patchwork decorated boxes. Fragrance notes include: Tonka Bean, Vanilla, Heliotrope Flower, Mandarin, Cedar Wood, Musk. SRP: $65.00 for a 3.4 oz Eau de Parfum.
If you are into the French Japanese fashion designers and fragrances then you would love Kenzo.  Kenzo Takada is originally from Himeji Japan who later moved to Tokyo and Paris to become a fashion designer.  Kenzo Takada was the first Japanese designer to make an strong impression on the fashion world in Paris in 1965.
We love Kenzo L'eauParKenzo Pour Femme or for her.  This very fresh and clean fragrance is a result of Kenzo's love for water.  Main Notes include:  Frosty Water Mint, Water Lily, Paradise Seeds, Blue Cedar, Infusion of Vanilla Pods.  Cost:  $35 for 30 ml Eau de Toilette Spray, $48 for 50 ml Eau de Toilette Spray,  $62 for 100 ml Eau de Toilette Spray. 
Kenzo L'eauParKenzo Pour Homme or for him is the masculine version of Kenzo L'eauParKenzo Pour Femme.  Main notes include:  Yuzu, Ho Leaf, Lotus Leaf, Aquatic Mint, Green Pepper, White Music, Mandarin, Rosewood, Waterlily, Floral Musk.  Cost:  $48 for 50 ml Eau de Toilette Spray, $62 for 100 ml Eau de Toilette Spray, $18 for a 75 ml Stick Deodorant.