All Posts Tagged With: "KENZO Perfumes"
L'eau Par Kenzo Eau Indigo: As night falls, L'eau par Kenzo becomes Eau Indigo, a pair of sensual fragrances for him and her inspired by the seductive dance of color and scent as dusk sets on water. Fresh, zesty notes unfold into a sensual base built around an amber note. L'eau par Kenzo eau Indigo captures the moment when twilight skims over water's surface and the heat of the day tangos with chilly whispers of the night, releasing a unique scent suggestive of the possibility and adventure yet to come.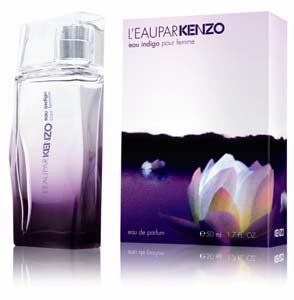 L'Eau Par Kenzo Eau Indigo Pour Femme:  a sensual floral with notes of bergamot, mandarin, jasmine, orange blossom, ylang, tonka bean and amber.
Kenzo celebrates its 20th anniversary with the release of Peace, a limited-edition fragrance that pays tribute to the era of the 1970s. The bold scent is a mixed floral, woody musk that captures the deep desire for freedom in both men and women.
The magnetic purple bottle is embossed with the symbol of peace and love-to carry the message around the world-and comes in one of four zany patchwork decorated boxes. Fragrance notes include: Tonka Bean, Vanilla, Heliotrope Flower, Mandarin, Cedar Wood, Musk. SRP: $65.00 for a 3.4 oz Eau de Parfum.