MAC Style Black: Q&A With Terry Barber MAC Senior Artist.
Q: IS "GOTH" back? or "NEW GOTH"? What's it all about now?
A: Yes, but it's the way Tim Burton would treat Goth, more dark-romantic, a bit of street-urchin Victoriana, but not a ghoul, a bit Ska – those are the elements of Goth now. Think punk-inspired but not punk– more punk couture. In a way it's very Picasso-esque: raw, drawing lines around the eye with spontaneity and naivety, more home-made, distressed, lived-in looks. Black is also looking a lot more air-brushed like YSL models in the '80s; that famous Helmut Newton picture of the woman in the smoking jacket under the Paris street lamp – that's a part of it too.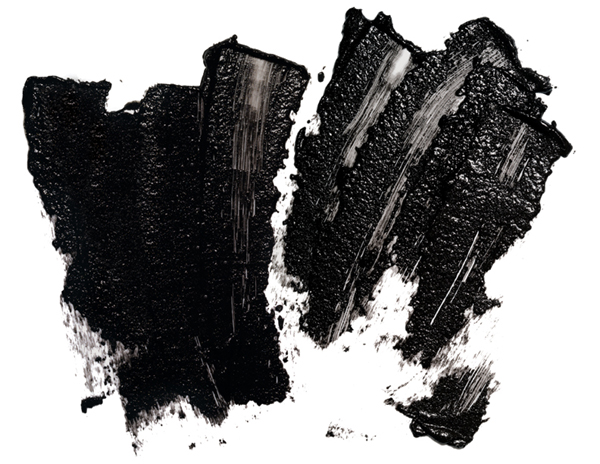 Q: 'Style Black' is so iconic. From '80s Steven Sprouse to the Mudd Club to The Factory to Neo-Goth Gareth Pugh – it's a very storied idea. What elements of the new 'Style Black' make it modern? Is there a different technique or product you use?
A: Well back then, it was about stealing your sister's eyeliner and really a black pencil and talc for the skin was about all you could afford. Everybody aspired to be underground didn't they? They still do. In all those places, the way men would put a bit of kohl in the eye and not pay attention to it, let it run…. that was the spirit. Now it's Kate Moss coming FROM a party, with a glass of champagne in one hand and a cigarette in the other, as opposed to the try hard, red-carpet GOING TO a party scene. Style Black could turn up anywhere, but its real soul is in an irreverent look of a cool, undone girl. For technique, after greasepaint stick, add a bit of gloss to the eye and let it go…. that's now.
Q: What's on your 'Style Black' mood board? In your opinion, what beauty icon had the best 'Style Black' look?
A: The Ronettes and other '50s and '60s girl groups, old black-and-white pictures of Tallulah Bankhead and her quote, "I'm as pure as the driven slush," The Blitz Kids, Post-Punk, early New Romantics, CBGBs and Club Taboo (London)….In terms of beauty icons I would say the pictures of Sophia Loren in the film El Cid – completely opposite to the pious character she plays, she's got on perfect '60s eyeliner and those unbelievable lashes; Debbie Harry, but the early years, in her school girl uniform, before the peroxide. Of course, Kate (Bush or Moss).
Q: Did Amy Winehouse rock the modern world with her black beehive and kohl eyeliner the same way Edie Sedgwick rocked the Warhol years? What's the fascination with 'Back to Black'?
A: Every generation has to have its anti-establishment heroines – and we need an alternative to red-carpet perfection! Amy is like a mythical witch who lives in the Camden Underworld. She's got a lot of Russ Meyer in her – very "Faster Pussycat, Kill, Kill"– she can do no wrong for me. Edie was great, more like a boy, all eyes and brow, more temporary and then gone in a flash.
Q: Can anybody take a Greasepaint Stick or Kohl Eyeliner and make it work? What's the secret?
A: Yes. Because that's the reality of how they do it, how we wear make up – quick, fast, sexy, rubbed-in black. Perfect but imperfect, wrong but right. Naïve but knowingly placed.
Q: What are your favorite Style Black products?
A: First and foremost, the Greasepaint Stick – it's thick and crude but the lines are beautiful, it's crude with craft! It does it all. Put it on first. That's important. I also love the new Mineralize Black Shadows, with the undertones of jewel metallics, for that Grace Jones look – like wet asphalt. Sexy. Overall, it's all about Black with metallics – emerald green on dirty gold, a little cobalt mixed in. Pure perfection can be dull, as Pam Anderson always taught me, trash down is much more chic.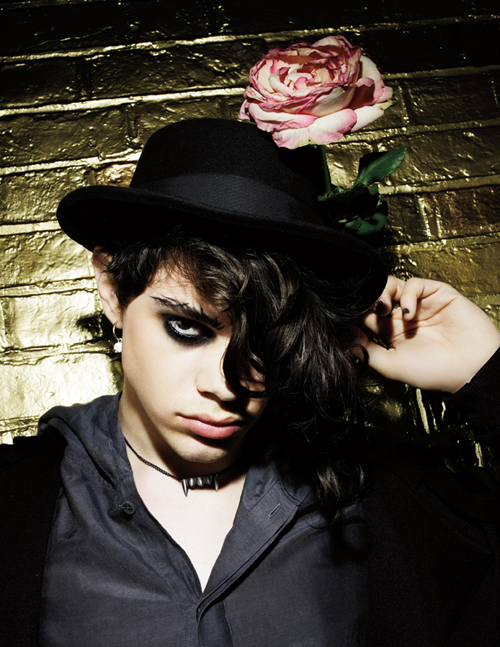 Q: How do you use Style Black from Day to Night?
A: Never change an eye from day to night, just charge it up! Polish the skin, buff the lip, shade the face but keep it all in perspective and never try too hard.
Q: If the emphasis is on a dark eye, how do you approach lips and cheeks?
A: Only a hardcore vampire would do all black everything. It's all about balance. A lot of eye always means less skin and a fleshy mouth. A strong lip looks contemporary on a nude eye. It's is all about what you ERASE on the face. At the shows erased eyebrows are having a big moment.
Q: What worked best backstage from New York, London, Milan and Paris, over and over? How did you interpret the new 'Goth' idea in makeup – how far did you want to take it?
A: Black lip glosses went on eyelids at the shows, for that petrol puddle look. Fabulous. Again, Greasepaint Stick and the black lip glosses were a killer combination. Normally you have to build and build with a pencil and eyeliner on top then layer shadows…this just STAYS. You don't have to blend it or powder it down or retouch it; the amazing thing about these new products is the low maintenance factor. They LAST and they STAY. It's ease with instant impact. It's cool but not technical.
Q: M·A·C has always been all about Black…. Is black forever?
A: Without a doubt. There are so many incarnations that go into it – the biggest statement doesn't always have to be Rock'n'Roll or Gothic. The Film Noir and 1930's surrealism are a huge influence. I love Anita Ekberg in La Dolce Vita, and all the Italian Neo-Realist films and Fellini of course. The Egyptians – Amy Winehouse brought Nefertiti to the street. That cubist, round-eyed Cabaret look and the chic Lesbiana of the 20s; Josephine Baker! Helmut Newton and that whole Robert Palmer 80's mannequin thing that we can't seem to escape from!
Q: Can women AND men wear 'Style Black'?
A: Sure but it's really a Soho thing. Or suburban boys on the weekend escaping the nine to five. Think Pete Doherty doing bridge and tunnel.