All Posts Tagged With: "Goth Makeup"
MAC Style Black: Q&A With Terry Barber MAC Senior Artist.
Q: IS "GOTH" back? or "NEW GOTH"? What's it all about now?
A: Yes, but it's the way Tim Burton would treat Goth, more dark-romantic, a bit of street-urchin Victoriana, but not a ghoul, a bit Ska – those are the elements of Goth now. Think punk-inspired but not punk– more punk couture. In a way it's very Picasso-esque: raw, drawing lines around the eye with spontaneity and naivety, more home-made, distressed, lived-in looks. Black is also looking a lot more air-brushed like YSL models in the '80s; that famous Helmut Newton picture of the woman in the smoking jacket under the Paris street lamp – that's a part of it too.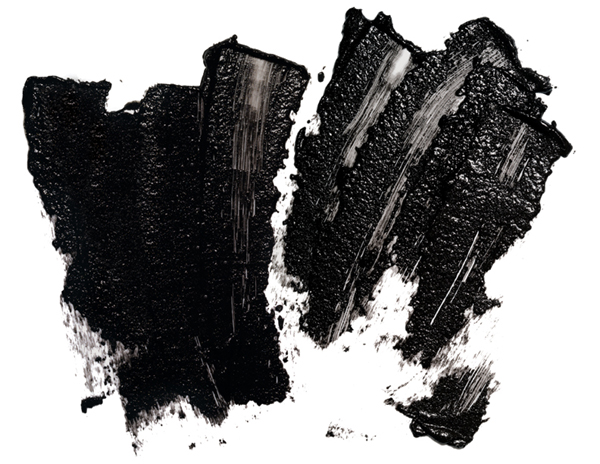 Q: 'Style Black' is so iconic. From '80s Steven Sprouse to the Mudd Club to The Factory to Neo-Goth Gareth Pugh – it's a very storied idea. What elements of the new 'Style Black' make it modern? Is there a different technique or product you use?
A: Well back then, it was about stealing your sister's eyeliner and really a black pencil and talc for the skin was about all you could afford. Everybody aspired to be underground didn't they? They still do. In all those places, the way men would put a bit of kohl in the eye and not pay attention to it, let it run…. that was the spirit. Now it's Kate Moss coming FROM a party, with a glass of champagne in one hand and a cigarette in the other, as opposed to the try hard, red-carpet GOING TO a party scene. Style Black could turn up anywhere, but its real soul is in an irreverent look of a cool, undone girl. For technique, after greasepaint stick, add a bit of gloss to the eye and let it go…. that's now.
MAC Style Black: From towering ink-jet beehive and eyeliner to Steven "80s" sprouse-in-the-house kohl and fringe, to street-smart London new goth, black is simply beyond!
The ever-overlapping worlds of Fashion and Art may choose to revel in a Technicolour dream or a day-glo fantasy from time to time, but deep down, as Amy Winehouse likes to say in her wicked, wobbly way, it's always "Back to Black."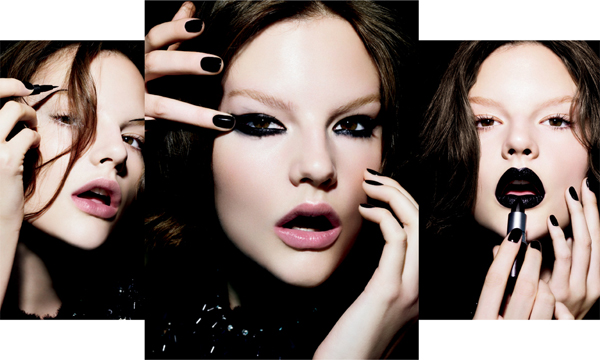 We first saw it in Milan for Jil Sander, in the spectacular living sculptures Raf Simmons chiseled from supple, constructed ebony curves and seams, each with an occasional fiery ruffle and flourish. We loved it at Calvin Klein, in boxy structures that echoed artist Richard Serra's epic shapes in their steely, outright boldness, eyelashes like the black widow spiders of sculptor Louise Bourgeois' sexy, sinister giant tarantulas….She mates, and she kills! And we were bouncing like black espresso beans at the New Goth youthquake we saw stomping down the runway at Gareth Pugh in London – the black market equivalent of a boot-leg Clash LP, all slick black vinyl and cool indignation. Quite simply the most intriguing new take on what "Goth" can be in the New Century, the Modern Black-o-Sphere.