Sam Fine recently did Jennifer Hudson's makeup for her first marked comeback singing the Star Spangled Banner at the 2009 NFL Superbowl on Sunday, February 1st 2009.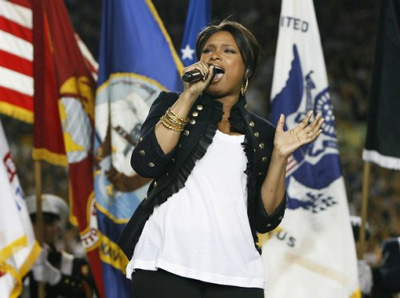 Talking Makeup has the scoop on how to get Jennifer Hudson's makeup look by celebrity makeup artist, Sam Fine: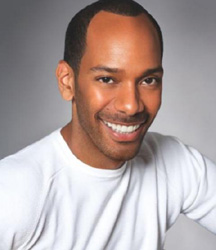 "Jennifer is very trusting with her team and really allowed us to collaborate to bring a look that is fresh and new to her," says Sam. "She was performing a classic song, so I gave her a classic look that would speak to the song she was performing."
Get that Confident Glow: "On a field seen by millions of people, it's important to have beautiful skin," advises Sam. "I like to start with a perfect canvas – that is a priority." How to: Start by layering bronzer onto the cheek bones using MAC Mineralized Skin Finish in Brunette. Then, apply a vibrant blush, try: Avon Be Blushed Cheek Color in Tropical Peach on top to add a pop of color.
Create a Classic Eye: "I wanted to play up the gold buttons on her jacket," says Sam. "So I used a golden brown eye shadow on the eyelid. (Try: Avon Smooth Mineral Eyeshadow in Earth). How To: Apply a light brown eye shadow across the lid. Then use Avon's Ultra Luxury Eye Liner in Black on the inside rim of the eye to add depth and definition.
"You can't do a performance without false lashes," states Sam. "They give the eyes sparkle in a naturally glamorous way." How To: Apply the false lashes and then fuse them with your own lashes using a great mascara like Avon's SuperSHOCK Mascara.
Nude Lip is a Must: "I created a nude lip for Jennifer because I knew that a microphone would be in its way for the performance," says Sam. "I didn't want to call too much attention to the mouth." How To: Use a dark brown liner that is two shades darker than your lip color. Then add a nude to the middle of the lip – try Avon's Ultra Color Rich Lipstick in Rose Mauve. Dab on a bit of gloss in the center to finish.
The overall look was natural, beautiful and confident. "Jennifer was so excited – I think her team was more nervous than she was," admits Sam. "We knew how important this was to her. But she was so calm and focused, listening to the song throughout the session to perfect the timing."