I had an amazing opportunity to interview actor Scott Bailey for www.styleinterviews.com !
Here it is:
Scott Bailey stars as "David" in the upcoming Lifetime Original Movie, "Prayers for Bobby", alongside three-time Academy Award nominee and Golden Globe winner Sigourney Weaver. Based on Leroy Aarons' landmark book, Bailey stars as the romantic interest of Bobby Griffith (Ryan Kelley), a closeted gay teenager whose profoundly religious mother drives him to commit suicide due to her inability to accept his homosexuality. "Prayers for Bobby" has its World Premiere on Lifetime January 24, 2009, and also stars Henry Czerny, Austin Nichols, Carly Schroeder and Susan Ruttan.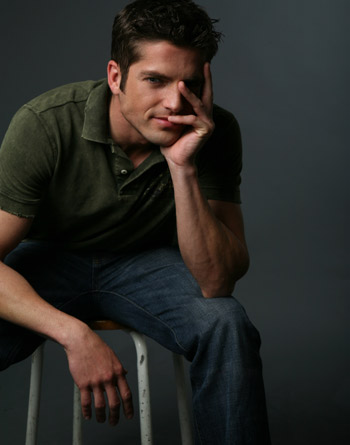 Photo Credit: Tom Cullis Photography.
Bailey previously starred as the lead role of "Roman" in 62 episodes of My Network Television's one-hour dramatic series "Saints and Sinners." He is best known for his three-year series regular role starring as "Sandy Foster" on the CBS daytime drama, Guiding Light. Scott Bailey's first starring role was opposite Virginia Madsen in the LIFETIME original movie, "Just Ask My Children". His other roles include having appeared in "The First Day", "Dawn of Our Nation", MTV's Undressed, Walker, Texas Ranger, Chicken Soup for the Soul and a guest star role on the hit series Law and Order: SVU.
In this interview Scott Bailey talks to Marta Walsh about his passion for acting and first big breaks, his role as David in Prayers for Bobby with Sigourney Weaver, why he looks up to George Clooney and Clint Eastwood, Backlight a new film he shot last fall, plans for the future, and even shares some style secrets.
Marta Walsh: How did you decide on a career in acting and what were some of your first breaks as an actor?
Scott Bailey: I was a bit of a shy kid and had never really done any acting until I took an acting class at UCLA while working toward my PhD in Mechanical Engineering. I figured an acting class would help me present my research without clamming up and sweating profusely. It helped and then some: through acting I found an incredibly creative and expressive outlet as well as a means to explore humanity and life! Playing pretend and telling stories has enriched my life greatly and I have been lucky and blessed to make a living at it!!
My first break would have to be Walker Texas Ranger. Within a week I went from a guy who could barely afford the gas to drive to an audition to flying first class to Texas and kicking ass with my boyhood idol Chuck Norris!! After two weeks of acting, stunts, kicking butt, emoting over the loss of my brother and recovering from amnesia I was hooked and realized this was a fun way to make a living. I thought to myself, someone gets do this fun job, why not me?

Photo Credit: Tom Cullis Photography.
My next big break came when I booked a 3 year contract role on Guiding Light. I had been to CBS to audition and/or screen test every 3 months or so for what seemed like an eternity and I was honestly about to quit showing up when they called up my agent and asked if I'd go to New York to screen test? Excited over the prospect yet wary of another rejection I flew to New York and screen tested with 6 other guys who had more credits, were taller and better looking and more confident!! I decided that I would just have fun with it and I did my thing and walked out of there and flew straight home. After an agonizing week of waiting I got a call inviting me to come to New York and have fun acting every week!!! I jumped for joy and got on the next flight to the Big Apple and began an amazing 3 years of comas, weddings, fights, and affairs on Guiding Light!!! My biggest break came this past summer when I was offered the role of David in "Prayers for Bobby"!! I had read the book and screenplay and I was blown away by what a meaningful and poignant story it was!!! I got to act with the unbelievably classy Sigourney Weaver and be a part of a great film that has the potential to change many lives!! That experience has made all of the auditions, rejections, and classes worth it!!!!
MW: What attracted you to the role of 'David' in the upcoming Lifetime Original Movie Prayers for Bobby?
SB: In a tragic story of intolerance and suicide, David represents hope and another solution. David is Bobby's loving and supportive boyfriend who encourages him to "just keep trying" to get his family to understand. He shows Bobby an example of what a loving accepting family can be like for a young gay man. David shows Bobby and all of those Bobby's out there who will be watching the film that a happy peaceful life is possible and that suicide isn't the only answer. I am honored and beyond proud to be able to play David and propagate this wonderful message!!!
MW: Sigourney Weaver is also starring in Prayers for Bobby. Did you actually get to meet her?
SB: On my first day I worked with her and she was as gracious and professional and powerful and classy as you would think and more!!! Not only that, she is so well-spoken and passionate about the story and message that I will forever root for her!!!
MW: What would be your dream acting role?
SB: Prayers with David, The new series on HBO…..
MW: Which other Hollywood male actors inspire you?
SB: George Clooney: Class Act!! I often ask myself what would Clooney do?? Clint Eastwood: Dynamite director/actor/composer/man!! I try to prepare for each job as if it were my opportunity to work with Clint, some day it will be!
MW: What's next for Scott Bailey?
SB: I shot a film last fall called "Backlight" where I played a suicidally depressed guy who finds peace by helping others!! When it comes out this summer, I am looking forward to seeing the results of a month in the desert with Fernando Fragata, one crazy and talented Portuguese writer director!! I am writing and learning to paint and play the bagpipes!! I am also still excited to go to auditions when the stories are meaningful and the characters are interesting. I am even more excited about the next job whatever it may be!!!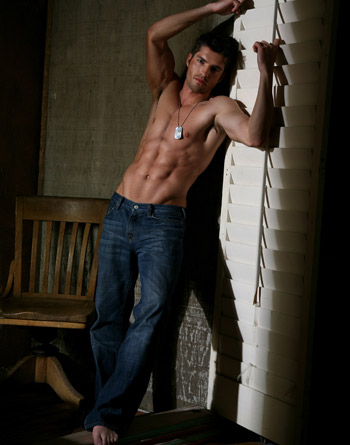 Photo Credit: Tom Cullis Photography.
MW: How would you describe your personal style?
SB: I guess I'm a guys guy: I like rugged, simple and classic. For day to day I wear Jeans, white v-neck Ts, and a simple rugged sweater or shirt. For a premier or screening I might add a blazer or if the occasion warrants it ill put on a classic suit, something like Montgomery Clift would've worn or Clooney might wear.
MW: How do you go about picking an outfit for a red carpet event?
SB: First I need to take into account the event: is it family film (might add some color and fun) or a charity(a little more relaxed) or a topnotch awards ceremony(black tie) and I look into my closet and see what jumps out at me. I tend to try and dress one level above the required attire because I feel is better to be on the classy side than to be disrespectful. Bottom line though, I'm a guy so it's pretty easy: I've got 3 suits and a tux, so I ask myself which one works and is clean?!
MW: Have you ever had a fashion disaster?
SB: My entire life has probably been a fashion disaster!! I have never really put a lot of effort into matching or styling myself!! Until I had a regular gig on a TV series I couldn't really afford much more than the goodwill or sales rack would offer and I was only dressing for my own comfort. The costume designer on Guiding Light, Shawn Dudley, outfitted my character with a couple of suits and it felt really good to class it up a bit. He also helped me pick out a few styles to wear to awards ceremonies and charity events. When I left the show I bought those suits and have used what he taught me to class it up a bit while still staying comfortable!!! Thanks Shawn!!!
MW: Who are your favorite designers?
SB: I have a Hugo Boss Tux I love because it so simple and elegant. I have Dolce and Gabanna suit with great lines that fits me just right. I also have a Hilfiger suit that is really dapper!! Thanks again Shawn!!! My favorite suit is by a company called "Drobe". I bid on it at a charity auction and they let me choose the materials and style and built it to fit me. It is a black Clooney Classic type of suit and goes with everything!!
MW: Where would we normally find you shopping for clothes?
SB: I honestly don't shop much!! I shop out of necessity. In the hungry days I shopped at Goodwill, Salvation Army, and Thrift stores. Luckily for me, I sometimes get outfitted with great clothes on TV or film jobs and if I really like them I just offer to buy them and take them home with me. I only shop if I need a new pair of shoes or wardrobe for a new character or my socks have holes or something.
MW: What is your signature cologne?
SB: Burberry Brit, simple and classy, clean but not soft or sweet.
MW: What would be your ultimate stylish car?
SB: Classic Porsche Speedster!!!! Like the car Dylan drove on 90210 or Kelly McGillis drove in Top Gun. I would prefer it in silver though!! That way you can see more reflection in the beautifully simple lines. I admire the genius in the simplicity of the design: low to the ground, lightweight, aerodynamic curves, and a rear engine. I think it would be exhilarating to drive it with the top down from my house in the hills through the windy canyons on my way to work on a film with Clooney and Clint!!!
MW: Which city do you find most stylish?
SB: New York! Definitely! New Yorkers need more clothes and they have to be functional. The seasons are more pronounced in New York and therefore there are more opportunities to wear coats and scarves and hats and the New Yorkers do so with class and verve!! New York also has such a variety of styles: within a block I can see a banker suited up, a bohemian artist, a PR maven styled to the nines and an actor in rugged jeans and sweater, all stylish in their own way!!!!
Style Interviews would like to thank Scott for talking to us and sharing some of his style secrets, make sure to check out Prayers for Bobby on Lifetime and to find out more about Scott visit his official fan site: www.osbfc.com