Frederic Fekkai Lead Stylist Didier Malige created a sexy, relaxed look for Rachel Zoe's Spring-Summer 2012 Fashion Week Presentation.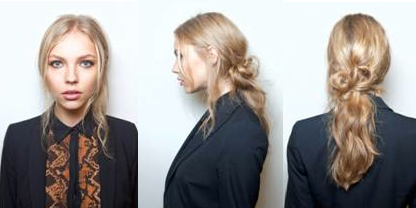 Inspiration: Didier Malige created a hair style that is personalized for the look of each model and each outfit. The general look was inspired by the idea of wearing hair from the night before, creating a very fresh, messy and natural look.
How to get the look…
Start the night before, by washing the hair thoroughly with Fekkai Advanced Full Blown Volume Shampoo and Conditioner. The next day, start with clean dry hair and apply Fekkai Coiff Bouffant Lifting and Texturizing Spray Gel to the roots. Blow the hair dry, using only fingers, to allow for natural curls to form. Then, reshape the waves throughout the top and mid section of the hair, using curling irons of at least two different sizes. To wear the hair down, add a few small, loose braids underneath the top layer of hair, stopping at least two inches before the bottom of the hair. To create an up-do from the look, loosely weave the hair starting at the nape of the neck, stopping at least two inches before the bottom of the hair. Gently roll the hair and collect it against the back of the head, allowing a few face-framing tendrils to fall, using bobby pins to hold in place. To secure both styles of the look, spray Fekkai Coiff Sheer Hold Hair Spray throughout the hair.