René Furterer launches the NEW and improved FIORAVANTI shine enhancing conditioner. When it comes to hair, shine is always in, so it comes as no surprise that radiance is the number one expectation for hair care. The conditioner is super enriched with Fioravanti Complex and Acerola Cherry Vinegar formulation to deliver optimal light reflection.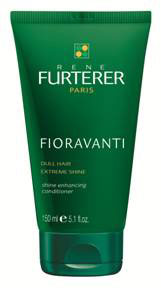 Fioravanti Complex dates back to a recipe that was originally developed in the 16th century by Dr. Fioravanti. The proprietary plant-based composition of laurel berries, cinnamon, galbanum, ginger, clove, nutmeg, myrrh elemi resin, styrx, larch turpentine and oregano form a synergy to tighten hair scales and detangle, while the Acerola Cherry vinegar neutralizes hard water. These natural, active ingredients have now been combined with a cationic complex that prevents shine-blocking particle deposits along the hair fiber, which separate the hair scales causing dull, tangled tresses.
The NEW Fioravanti shine enhancing conditioner will be available in May 2010 for $28 at Beauty.com and at salons and spas nationwide.