With the most romantic day of the year approaching, Valentine's Day that is, it's time to prepare your skin and get it smooth and silky to-the-touch by treating it to some natural love! Thanks to St. Ives Consulting Dermatologist's Dr. Marsha Gordon skincare tips and the Whipped Silk line from St. Ives, you might have a chance to get the skin you want!
"Incorporating products with natural emollients into your daily skin care regimen is an easy and effective way to promote healthy, radiant, kiss-worthy skin," says St. Ives Consulting Dermatologist Dr. Marsha Gordon.
Dr. Gordon's at-home skincare tips:
1. Gently cleanse skin in-shower with a hydrating body wash, like St. Ives Luxurious Whipped Silk Body Wash ($3.99 for 18 fl oz. bottle). With a lavish lather and natural moisturizing ingredients, this rich body wash leaves skin feeling silky smooth.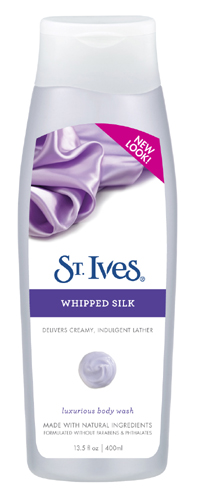 2. Apply a moisturizer to your body in the morning and evening, paying special attention to dry-prone areas like the knees and elbows. St. Ives Softening Whipped Silk Advanced Body Moisturizer ($4.99 for 18 fl oz. pump), formulated with Silk Proteins and emollients, offers an indulgent, soft, light-textured cream that glides on easily and absorbs quickly without a greasy feel.
3. Avoid long, steamy showers as these can dry out your skin.
4. Drink eight glasses of water per day.
5. Use a humidifier.
6. Eat foods high in Vitamins A, B, C and E.