Several hundred Hollywood stars, fashionistas, philanthropists and civic leaders dropped by Beverly Hills' longest lasting boutique, GRETA, on Wednesday evening (November 18) from 6 – 9 pm for a first look at Sachin + Babi's Resort 2010 collection, available exclusively in Beverly Hills at the fine women's apparel establishment located at 141 S. Beverly Drive.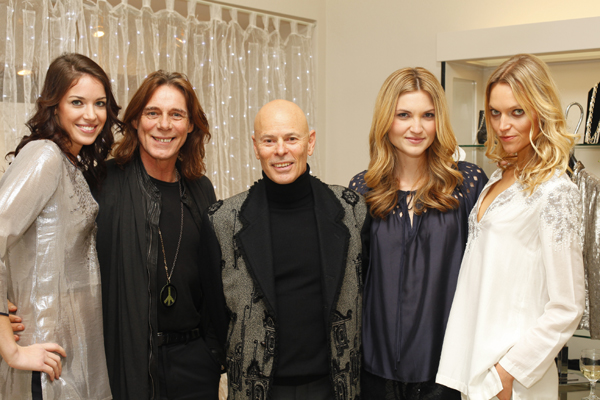 Celeb stylist George Blodwell and LA models wearing Sachin + Babi Resort 2010
The moment the red carpet rolled out, Beverly Hills Mayor Nancy Krasne proudly presented boutique owner Greta with a special commendation from the BH City Council recognizing the wonderful woman who has stayed in business on South Beverly Drive for 48 years. Michael Papajohn ("Transformers: Revenge of the Fallen"), Chelsea Gilligan (Miss California Teen USA), Jazmin Whitely (MTV's "House of Jazmin"), Judy Tenuta (star comedienne), Ben Mittleman ("Dying the Live"), Amanda Luttrel Garrigus (E!) and famed celebrity stylist George Blodwell joined the dozens of long-time Greta clients and friends enjoying fine French and German wines, delectable hors d'oeuvres from Mako and informal modeling by the most gorgeous professionals from LA Models.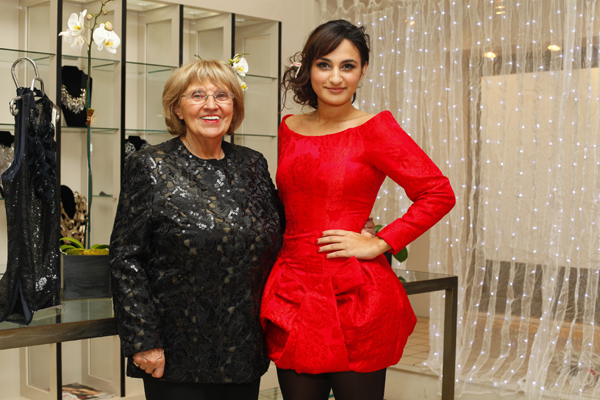 Greta and Jazmin Whitley of MTV's House of Jazmin.
GRETA also unveiled a new partnership with SHARE Inc., one of the most respected Southern California-based charitable organizations which raises funds for developmentally disabled, abused and neglected children. Joan Rush, SHARE Chairman of the Board, expressed sincere gratitude at Greta's commitment to donate 10% of every regular price purchase made with the new loyalty card to SHARE. Several board members joined her at Wednesday evening's cocktail party including Shirley Turteltaub, Esther Rosenfield and September Sarno.
Husband-and-wife designers Sachin and Babi Ahluwalia, based in NYC, expressly chose GRETA whose owner is renowned for her exquisite taste and loyal clientele. This is the exclusive home for their beautiful collection of dresses, separates, outerwear and jewelry which exudes an air of urban sophistication. The clean color palette is primarily comprised of whites and silver metallics, grounded by deep, inky black and navy blues, and accented with light pinks. Materials such as silk voiles, cotton, chiffon and organza are accented by just the right touches of sequins, florals, pleats, crinkling and drapery. The Resort 2010 collection is the perfect canvas to showcase Sachin + Babi's renowned embroidery embellishment, and finishes.
For the past 48 years, GRETA has made her mark on the Westside's well-dressed woman offering luxury fashion at reasonable prices. The next decade will continue to carry her brand's progressive image with discriminating taste.